Harry Potter Audiobook is Now Totally Free to Stream. Here's How
Move over, Jim Dale. Stephen Fry is in town.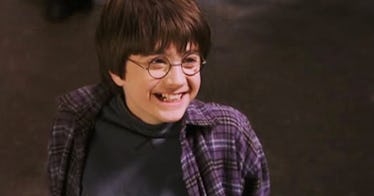 Warner Bros.
Good news, Potter-heads: the audiobook for Harry Potter and the Philosopher's Stone — otherwise known as Harry Potter and the Sorcerer's Stone for folks in the United States — is now available for free on Audible. Specifically, the audiobook that's available is the version voiced by Stephen Fry, not Jim Dale, who is known for doing the stateside Harry Potter audiobooks.
This is exciting for a number of reasons — not least of which because before this, it was hard to get copies of Fry's version in the United States — but also because the whole family can now begin Harry's journey to Hogwarts and beyond together, for free, while cooped up in the comfort of their own homes.
Being transported to Harry's world doesn't sound so bad right now, after all. And families can debate and answer definitively whose version of the classic book is better: Fry or Dale's. Hopefully, the Chamber of Secrets will be available soon, but if not, the audiobook series might be worth the investment.
The book became available for free through J.K. Rowling's new initiative, Harry Potter At Home, which provides a number of resources for parents and educators for free from the famous wizarding world franchise.
The first installment of Harry Potter is also available in twenty different languages, but Harry Potter At Home also provides articles, puzzles and videos for kids and educators to access. Kids can watch crafting videos that are magical creature-themed, take quizzes, and more. Rowling says that more will be available on the hub over time, and that the first book will be available through the month of April.
This article was originally published on