Harry and Meghan Have Performed Their Last Royal Duty
Goodbye Royal titles, but hello freedom!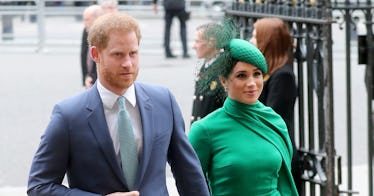 GETTY
Harry and Meghan are officially done. The Duke and Duchess of Sussex attended their last official event as working members of the Royal family this week when they joined the Queen and other members of the family at the annual Commonwealth Day service in Westminster Abbey. It was an event full of protocol, with a touch of awkwardness. But it's over, and now Prince Harry and Meghan Markle are done their job and just waiting out until the end of the month. Here's what went down.
This event was the first time the Sussexes have appeared in public with other members of the Royal family since they announced they were leaving their jobs as Senior Members. There was a lot of tension between the family as the Queen made it clear she wasn't happy with their decision. The negotiations between the family to work out all those details were tense, and Meghan and Harry were clear that they weren't thrilled with every worked-out detail.
So, the family had extra eyes on them for this event as people wanted and waited to see if there was any awkwardness. And for the most part, the family followed their stoic protocol and kept their cool, but there was one awkward moment.
The protocol was followed when each family arrived, arriving in a specific order of who's next in line for the throne. The Sussexes came first, followed by The Duke and Duchess of Cambridge, then the Cambridges, Prince Charles and his wife Camilla, Duchess of Cornwall. And then the Queen. The same order follows into Westminster Abbey as well.
Harry and Meghan were seated in a row behind the Cambridges, Prince William and Kate Middleton, as is their protocol. In a short video clip posted to Twitter, it appears that Meghan was trying to wave at Kate as she was arriving, but Kate didn't return the gesture and looks like she completely ignored her, while William looks to say "hello" in return.
Chances are, Kate didn't see the wave by Meghan, or perhaps a wave back would have gone against protocol, but it happened, and people noticed.
When the service ended, everyone walked out together, and there was no further awkwardness or events. Meghan and Prince spoke to some of the children who had gathered outside the event, and that was it. The last official engagement as working members of the Royals.
Their last official day is March 31st, and then we will see their new branding on their social channels since they can't use the word "royal" anymore, but they will arguably have a lot more freedom, too. This isn't the last we will see of these two.
This article was originally published on