Harry and Meghan Are Low-Key Bringing Free Food to People In LA
Prince Harry and Meghan are giving back (again.)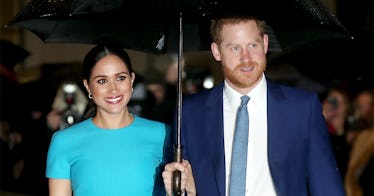 GETTY
Prince Harry and Meghan Markle, who recently stepped down from their official duties as senior royals on March 31 in order to seek out a more private life on their own terms, have used their relative anonymity since their 'retirement' for good, according to Project Angel Food, Los-Angeles non-profit that delivers meals to chronically ill Los Angeles residents.
That's right: since the famous pair moved to Los Angeles, they've kept an extremely low profile. But they've been using that low profile for good. According to Project Angel Food CEO Richard Ayoub, the duo delivered a week's worth of perishable meals and three week's worth of shelf-stable foods to 20 Los Angeles residents who receive help from the charity, which specifically provides foods that are tailored to each client's medical needs.
Living with chronic illness can be tough and debilitating, and many times various chronic health conditions can require a special diet to manage. Project Angel Food steps in in a major way by giving those in need the meals they need in order to stay healthy and live pain-free lives. According to Ayoub, Project Angel Food has been overwhelmed in the past few weeks as chronically ill, immunocompromised folks have been calling in to the service as they are unable to leave their homes to get groceries like healthy people can. He reports they've received up to 70 calls a day, and their volunteer drivers have been overwhelmed by the massive need in the Los Angeles community.
That's where Prince Harry and Meghan stepped up to the task. Apparently, they've volunteered twice – one day on Easter Sunday — and were dressed so casually while dropping off meals from a safe distance that many clients didn't realize who they were until they had left. Project Angel Food was one of the first charities they backed after moving to Los Angeles and starting their new philanthropic arm, Archewell, after they were no longer allowed to use the Sussex Royal brand. Ayoub says that Harry and Meghan are welcome to come back at any time. Given their penchant for giving back to communities, they just might.
This article was originally published on