Harry and Meghan Are Filing a Lawsuit to Protect Their Son's Privacy
It sounds like they've been having a rough time.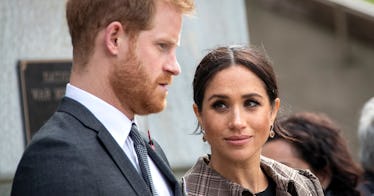 GETTY
Prince Harry and Meghan Markle, who divorced the Royal family earlier this year to pursue their own careers and livelihoods and have since been living stateside in Los Angeles, California, have filed a lawsuit against paparazzi photographers who have so far gone unnamed for violating the privacy of their infant son, Archie. Per the lawsuit, which was filed in the Superior Court of California, it was filed after the paparazzi had committed "serial intrusions" of privacy against Archie, who is a 14-month-old baby.
Apparently, paparazzi and gossip outlets have been flying drones and helicopters in the airspace right above the couple's residence, after the address of the Los Angeles home became knowledge to paps, apparently. The lawsuit also suggests that when the drones were able to get photos of Archie through house windows, to sell the photos legally, they lied and said that the photos were of Archie in public spaces, not in the privacy of his parent's home.
While the lawsuit also acknowledges that Harry and Meghan are public figures, they are simply asking that they are able to have privacy when they're in their own homes and that their infant baby, a minor, can have the same treatment.
"The Duke and Duchess of Sussex are filing this lawsuit to protect their young son's right to privacy in their home without intrusion by photographers, and to uncover and stop those who seek to profit from these illegal actions," the lawsuit states.
This article was originally published on