FDA Says Specific Hand Sanitizer Brands Are Possibly Fatal
Methanol in the hand sanitizers can cause permanent blindness, coma, and death.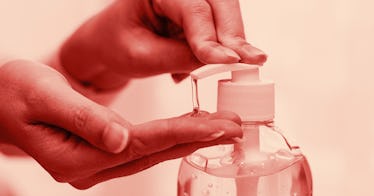 Time to double-check which kinds od hand sanitizer you're using. Some brands contain a toxic substance that is so crazy bad for you that it can cause death.
The Food and Drug Administration has identified nine hand sanitizer brands that contain methanol, a toxic substance that can lead to death. Anyone who has used these brands should seek immediate medical help. Methanol, also known as wood alcohol, is toxic when ingested or absorbed through the skin, according to an FDA advisory released on Friday. "Methanol is not an acceptable ingredient for hand sanitizers and should not be used due to its toxic effects," the FDA stated. Exposure to methanol can lead to nausea, vomiting, headache, blurred vision, permanent blindness, seizures, coma, permanent damage to the nervous system or death.
If treated quickly, the effects of methanol poisoning can be reversed. However, "when patients present late or diagnosis is not recognized in a timely fashion, significant morbidity and mortality can occur," according to the book Methanol Toxicity. Young children who accidentally ingest the hand sanitizer and young adults who drink it as an alcohol substitute are at increased risk of complications.
The nine hand sanitizers brands the FDA found to contain methanol are produced by the company Eskbiochem SA de CV in Mexico. The brands are:
All-Clean Hand Sanitizer (NDC: 74589-002-01)
Esk Biochem Hand Sanitizer (NDC: 74589-007-01)
CleanCare NoGerm Advanced Hand Sanitizer 75% Alcohol (NDC: 74589-008-04)
Lavar 70 Gel Hand Sanitizer (NDC: 74589-006-01)
The Good Gel Antibacterial Gel Hand Sanitizer (NDC: 74589-010-10)
CleanCare NoGerm Advanced Hand Sanitizer 80% Alcohol (NDC: 74589-005-03)
CleanCare NoGerm Advanced Hand Sanitizer 75% Alcohol (NDC: 74589-009-01)
CleanCare NoGerm Advanced Hand Sanitizer 80% Alcohol (NDC: 74589-003-01)
Saniderm Advanced Hand Sanitizer (NDC: 74589-001-01)
One brand, Lavar Gel, contains 81 percent methanol. Another, CleanCare No Germ, contains 28 percent methanol.
A dose of methanol becomes lethal at about 30mL to 240mL, according to Methanol Toxicity. People only pump several mL of hand sanitizer per use.
The FDA asked Eskbiochem to remove their products from the market on June 17, but the company has not yet done so. A representative of Eskbiochem, Alexander Escamillo, told the New York Times they only received the FDA's warning on June 22. Escamillo said a broker with access to the company registered the products with the FDA and that the company was unable to log into its FDA profile. "We would never do that, send a toxic chemical maliciously," Escamillo said.
The FDA has not yet received any reports of injury from people using these products. If you own one of the listed brands, do not throw it away or dump it down a drain. Instead, dispose of the hand sanitizer in a hazardous waste container.