Here's Why Former Gymnasts Are Supporting Simone Biles
"In our sport, we essentially dive into a pool with no water."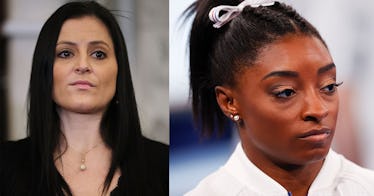 GETTY
While ignorant critics have gotten most of the attention, plenty of people have come out in support of Simone Biles' decision to withdraw from the team final competition and the individual all-around competition in the Tokyo 2021 Olympics, citing the need to care for her mental health as the reason for her choice not to participate.
And one of her supporters is Dominique Moceanu, as the 1996 gold medalist wrote on Twitter that Biles made "the right decision for the team & for herself." Moceanu was a member of the legendary "Magnificent Seven" that won the first-ever gold medal for the United States in the women's team competition.
She shared a video of her falling on her head during a balance beam routine and revealed the injuries she was dealing with at the time. She said she had no choice but to compete and was given little to no medical care, let alone anyone bothering to check in on her mental health.
"I was 14 y/o w/ a tibial stress fracture, left alone w/ no cervical spine exam after this fall," Moceanu wrote in the tweet. "I competed in the Olympic floor final minutes later."
As a former Olympian gymnast, Moceanu has a unique understanding of what Biles is going through and she offered her full support for the 24-year-old's decision while lamenting the fact that she was not given the same opportunity during her time in the Olympics. She wrote that Biles' "decision demonstrates that we have a say in our own health—'a say' I NEVER felt I had as an Olympian."
"In our sport, we essentially dive into a pool w/ no water," Moceanu continued in a series of Tweets. "When you lose your ability to find the ground—which appears to be part of @Simone_Biles