Watch This Guy Prank His Wife With Extremely Public Fake Proposals
The joke was really on the crowd at Disney.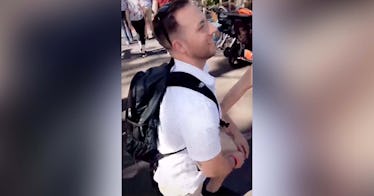 What happens when you combine the happiest place on earth and the biggest prank on your partner? A video that goes viral and has hundreds of people talking about it, apparently. A couple has made waves on social media with a video showing several "fake" proposals at Disney World. Here's what happened.
Before the coronavirus pandemic that made travel and fun a challenge, Kelly Lavery and her fiancé – now husband – spent a day at Disney World. On March 31, 2021, Kelly posted a compilation video of their time at Disney World to TikTok, where it quickly blew up.
In the video, Kelly's husband drops to his knees and proposes to her several times throughout the park. Any time they got to one of the landmarks at the park – such as Cinderella's Castle or areas where there was a large crowd – like the line-ups for the most popular rides – Kelly's husband would fake propose to her, making a giant romantic scene.
"My husband fake proposed to me all over Disney World because he knows I hate a scene," the caption on the video read. Each time he gets down on one knee in a grand gesture, Kelly begs him to stop and even ran away from him a few times.
While this seems like a cruel joke to his girlfriend, who might have been dropping hints she wanted to take the next step, the real prank was the scene the fake proposal created. Turns out the two were already engaged (and have since gotten married). Kelly just hates being the center of attention and what bigger way to put someone in the spotlight?
When Kelly posted the video to TikTok, that spotlight grew even larger. So far, the video has been viewed over 6 million times and has close to 12,000 comments. One person joked how hilarious it would have been to see this happen in real-time. "Imagine the ppl around thinking she doesn't want to marry him, lol," one person wrote.
The joke might not have been so nice if the two weren't already engaged. It's not nice to play with people's emotions. It sounds like their real engagement was exactly what Kelly wanted. Answering a commenter's question on how he really proposed, Kelly said, "He proposed in our house with just us and the dog! Exactly what I would've wanted. This was all for his amusement."
It's always good to have a laugh, and it sounds like these two know they don't always have to take life so seriously.
This article was originally published on