Man Broke a Guinness Record By Watching This Marvel Movie 292 Times
This is his second Guinness World Record for movie-watching.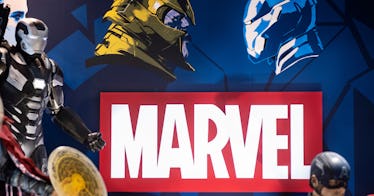 Budrul Chukrut/SOPA Images/LightRocket via Getty Images
We all have a favorite movie that we can watch over and over and never get tired of it. But this one totally relatable guy takes his movie joy to a whole new level. He's scored a Guinness World Record for watching one Marvel movie in theaters more than anyone else has watched on movie.
Florida resident Ramiro Alanis was recently awarded a Guinness World Records. He recently broke the world record for most cinema productions attended of the same film. That film – one of the Marvel franchise ones – was Spider-Man: No Way Home.
Between December 16, 2021 and March 15, 2022, Ramiro watched the movie in theaters 292 times. "That's a total runtime of 720 hours, or 30 days," said Guinness World Records.
This isn't Ramiro's first movie-watching record either. He previously held this same record for watching Avengers: Endgame 191 times in 2019. However, two years later, his record was beaten by Arnaud Klein after he watched Kaamelott: First Installment 204 times in theaters.
When he lost the record, Ramiro vowed to beat it again and wanted there to be a good margin so it would be more challenging for the next person to dethrone him from the title, while following all the Guinness World Records rules.
"In order for each viewing to be successfully counted towards the record total, the movie must be watched independently of any other activity," Guinness World Records explains. "That means Ramiro couldn't look at his phone, take a nap, or even go to the bathroom whilst the movie was running."
For the viewing to count, each movie has to be completed every time, including all of the credits. To count each viewing, the ticket stub has to be submitted as evidence and a statement needs to be taken from a theatre attendant after each movie watch confirming that the movie was watched all the way through
"Although he didn't keep track of the exact amount he spent on movie tickets over the course of the attempt, Ramiro estimates the total to be around $3,400," Guinness World Records. Which made a very small dent in the $253 million Spider-Man: No Way Home made at the box office.