Groundhog Day Shares Its Day With Astronomical And Ancient Traditions
Groundhog Day traditions are more than just random activities; they're ancient practices rooted in astronomy. Here's what you need to know.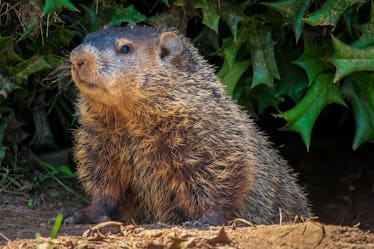 Shutterstock
Groundhog Day is a fun North American tradition that many of us participate in annually. On the morning of Feb. 2, many of us wait patiently to learn if the groundhog will see his shadow or not, and whether there will be six more dreaded weeks of winter.
It is, of course, not scientific, but it's a fun occasion. And there's actually far more history to Groundhog Day than you might know — including roots in astronomy and ancient tradition.
Groundhog Day has a long history.
According to History, the origin of Groundhog Day is tied to an ancient Christian celebration called Candlemas. The "Christian tradition of Candlemas" was "when clergy would bless and distribute candles needed for winter," the publication explains. "The candles represented how long and cold the winter would be."
Germans then took that concept and expanded from the candles to the hedgehog to predict how long the cold winter would be.
"Once they came to America, German settlers in Pennsylvania continued the tradition, although they switched from hedgehogs to groundhogs, which were plentiful in the Keystone State," History explains.
Groundhog Day falls on a cross-quarter day.
According to EarthSky, Groundhog Day is an astronomical holiday that falls on a cross-quarter day. This means that Groundhog Day is the midway point between the December solstice and the March equinox.
"In traditional astronomy, there are eight major seasonal subdivisions of every year," which are different than our four seasons, EarthSky shares. The additional four in traditional astronomy are called cross-quarter days. And instead of celebrating those cross-quarter days like its own season, today we've got celebrations in place for the day itself — including Groundhog Day and Halloween, which is also tied up with ancient tradition.
Here's how to celebrate this astronomical tradition, Groundhog Day, with the kids.
Most Groundhog Day fun will take place in Punxsutawney, Pennsylvania, where the reigning Punxatwney Phil lives. Each year, the town puts on a full three days of events, including a talent show, musical shows, the Groundhog Ball, and, of course, the famous shadow ceremony to determine if we'll have more winter or an earlier spring.
If Punxatwney Phil sees his shadow, there will be six more weeks of winter. We can expect an early spring if he does not see his shadow.
However, you don't need to head to Punxsutawney to have fun with the kids. You can watch Phil's prediction via live broadcast on VisitPa's website. In addition, videos will be shared on The Punxsutawney Groundhog Club's Facebook page and Punxsutawney Phil's YouTube channel.