Grocery Prices Might Not Go Down Anytime Soon
Grocery item costs are skyrocketing — and grocery stores are no longer offering coupons, too.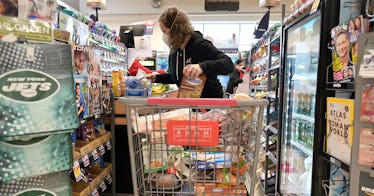 Getty
Are you groceries about to get cheaper or more expensive? Good Morning America may have confused you, so here's what it looks like for real.
According to the Department of Labor, the period from May 1 to May 30 has turned out to be the largest-ever monthly increase for some food items prices of all time, on-track with a May 12 report by the Bureau of Labor Statistics, which said that the price jump in grocery store costs was the largest jump since February 1976. Due to increased demand and shoppers buying so much food at grocery stores, many major food retailers have actually cut back on promotional flyers and sales. At the same time, meats, poultry, fish, and eggs jumped in costs by 3.7% in May, beef, by 10 percent. Good Morning America reported Nielsen found that overall food prices jumped about six percent from March 1st until the end of May, just 11 days ago. Those price jumps, coupled with a lack of coupons to help thrifty spenders, have led to consumers feeling the heat when it comes to buying food. According to experts, fresh fruit, and fresh vegetables, are spiking in costs more than pasta, canned goods, or shelf-stable items.
GMA also interviewed one owner of a supermarket chain who has held firm in not prices, but it's not clear that beyond that supermarket chain, prices are going to drop any time soon. At the end of April, Fatherly reported oncoming meat shortages due to COVID-19 outbreaks at over 80 meat production plants. These meat plants are hotspots for infection, where workers stand shoulder to shoulder and many have complained that they lack personal protective equipment. Many meat production workers also live in so-called "crowded" or multigenerational households, which many government experts define as households with more than one person per bedroom or with five or more family members in the house. This exacerbates the spread of COVID-19 and makes it especially hard to self-isolate if sick.
As of a few days ago, those meat shortages had no signs of letting up. While the extent to which a consumer might not find meat products at their grocery store depends on who the grocery store gets their meat from, mny grocery stores have limited the amount of beef consumers can purchase and experts suggest that prices of meat will remain high for months as the economy continues to falter and the supply chain continues to struggle to get back on track.