You're Not Crazy: Eggs, Meat, and Cereal Are All Way More Expensive
A new report shows just how much more Americans are paying for food.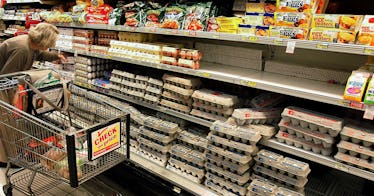 GETTY
If it's felt like your grocery store trips are stinging your wallet a bit more than usual, you're not crazy. A new report from the Bureau of Labor Statistics shows a month-over-month increase of 2.6 percent in food at home prices, the largest one-month jump that report has found since February 1976.
Egg prices saw the biggest jump, a whopping 16.1 percent spike. Put differently, the same money that got you a full dozen eggs in March would only buy ten in April.
The combined index for meats, poultry, fish, and eggs increased the most of the broad grocery store indices, jumping 4.3 percent, likely due to an impending national shortage that's made some Wendy's beef-free restaurants.
Adding to the bad news is the fact that the index for cereal and baked goods had its biggest increase ever, a 2.9 percent bump.
It's important to note that this report is known as the Consumer Price Index for all Urban Consumers (CPI-U) for a reason: it's not meant to account for conditions outside of cities. It does measure commodities besides food, and we're happy to report a bit of good news there.
If you're still driving as much as you did before the pandemic, you've probably noticed that the roads are empty, which means lower demand for gas, which means rapidly dropping gas prices. The CPI-U pegged last month's drop at 30.6 percent, nearly double the 10.4-percent drop the previous month.
Of course, you're probably not, and odds are that any money you save on the gas you need to get to the grocery store will be wiped out by the higher prices you'll find there, yet another side effect of the COVID-19 pandemic that is hurting wallets around the country.