Grimes and Elon Musk Renamed Their Baby X AE A-XII Musk
And now, Grimes has explained what it means.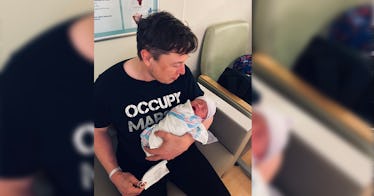 Elon Musk/Twitter
Confused about the name of Elon Musk and Grimes' new baby? To be clear it's not a joke, and when you break it all down, it's actually kind of sweet. Here's the deal.
Billionaire and Tesla CEO Elon Musk welcomed a brand spanking new baby boy with girlfriend Grimes on Monday, making his new infant son his sixth child and first for 32-year-old girlfriend Grimes. Grimes confirmed her pregnancy in January by posting a photo of a baby bump with a photoshopped fetus laying on top of her belly.
The baby, X Æ A-12 Musk, was born without complication and Musk confirmed the birth by tweeting that "Mom and baby are all good," and posted a photo of him with his infant son wearing a t-shirt that says "Occupy Mars." A few weeks after welcoming A-12, however, the couple has changed the baby's name, and apparently changed it a second time — marking the third iteration of the baby's name — in early June, after a photo of the baby's birth certificate surfaced on TMZ.
The name is still functionally the same. But what is the significance behind the unusual baby name? Grimes explained it on Twitter in early May.
To be fair, some internet sleuths were right about a few things, specifically, the idea that the "A-12" part was inspired by one of Musk's favorite airplanes. It's not entirely clear how the name is pronounced, yet. But, let's face it, the good news is, these people had a healthy birth in a very tricky time to have a baby.
But according to California law, X Æ A-12 is not actually a legal name. That's because in the state of California, legal names are only allowed to be made up of the 26 letters of the English alphabet, apostrophes, or hyphens, making his name, which includes a non-English letter and a number, one that might not be able to be filed on his birth certificate. That might just mean that the newborn's legal name is something like Elon II, but his mom and dad call him X Æ A-12.
That's why Grimes and Musk attempted to change the name of their baby to X Æ A-Xii, using Roman numerals to denote the "12" in the name, while maintaining the name's original significance. But, as of early June, the couple changed the baby's legal name to X AE A-XII, because the initial Æ character is not in the English alphabet and therefore is not legal. Still, it looks like the new name was approved by the state of California!
X AE A-XII Musk joins five other siblings, a set of twins and one set of triplets, from Elon Musk's first marriage to Justine Musk. One of Musk's children Nevada Alexander Musk, died of SIDS. Damian Musk, Griffin Musk, Xavier Musk, Saxon Musk, and Kai Musk all have several years on the new baby.
Having a name this unique could be seen as a liability to some parents, but if this kids' future friends nicknamed him "A-12," that actually is pretty cool when you think about it.
This article was originally published on