Greatest American Rock Band of All Time Isn't Who You Think It Is
The Twitterverse had a debate last night.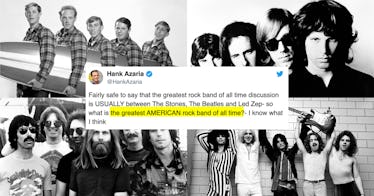 Yesterday on Twitter, actor, voice actor, comedian and producer Hank Azaria (The Simpsons, Mystery Men, Pretty Woman, etc, among many, many others) sparked a debate after asking the Twitterverse what the best American rock band of all time is.
Pointing to British rock bands like Led Zeppelin, the Rolling Stones, and the Beatles, who clearly count among the best British and probably rock bands in the world, Hank asked what rockers across the pond deserve a space among the greats. Twitter spouted off with answers. Azaria came into the debate with bias already, stating that he already knew who he thought earned the spot, but still, the debate was fierce.
Twitter users responded with a litany of American bands: Bruce Springsteen & the E Street Band (which Azaria stated might be a collective and that Bruce might more accurately be considered a singer/songwriter), Talking Heads, R.E.M., Velvet Underground, and The Band.
There's also the Beach Boys (with Charlotte Clymer, a former Clinton staffer, saying that they pushed the Beatles to new creative heights.) Others argued Nirvana, Prince & the Revolution (might still be a singer/songwriter), Metallica (ugh!), The Doors, and the Eagles. Joy Reid, a television host on MSNBC, brought up many of the worthy funkadelic entries like the previously mentioned Prince, the Jimi Hendrix Experience, and, of course, Sly and the Family Stone. Still, that might be less a band like Nirvana and more a solo genius like Robert Plant & The New Sensations.
While these are all worthy conclusions, some of the suggestions are absolutely bonkers. Some people mentioned the Counting Crows, which is embarrassing, and ZZ Top, which, come on, they were simply a gimmick band. But the Beastie Boys, for a bit more out-of-left-field inclusion, Pearl Jam, and the Grateful Dead all likely deserve inclusion on to a list of shapers of American rock.
While the debate went on for hours, recognizing that there would be no agreement on the matter, Hank Azaria shut it down by stating what he thinks: the Doors, followed by Aerosmith.
Huh. As for my own personal tastes, I think the Pixies, Prince, the late Little Richard, Nirvana, and the E Street band are all deserving entries into the matter. That might not fit the bill — some of those are solo acts — but who cares. Rock is about breaking rules.
This article was originally published on