Grant Wahl's Widow Shares Letter From Biden About Spousal Loss: "He Is With You Always"
Dr. Céline Gounder found comfort in a letter from someone who understands the loss of a spouse: President Joe Biden.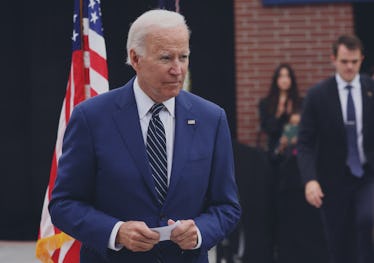 Mario Tama/Getty Images News/Getty Images
Grief can feel isolating, but having people in your corner who empathize with what you're going through helps you feel less alone. Dr. Céline Gounder, who recently lost her husband, Grant Wahl, unexpectedly while he was reporting at the World Cup in Qatar, found comfort in a letter sent from someone else who understands the loss of a spouse: President Joe Biden.
On Jan. 17, Dr. Gounder shared a letter she received from the White House following the death of her husband, who died suddenly from an aortic aneurysm while covering the 2022 FIFA World Cup in December.
The letter from Biden, who unexpectedly lost his wife, Neilia Hunter Biden, and their infant daughter Naomi in 1972 after a car accident, offered comforting words to Dr. Gounder as she navigates the earliest stages of grief.
"I know what it means to lose a spouse — your rock, your inspiration, your everything," Biden wrote. "I hope you find comfort in knowing that the love you had for Grant and the love he had for you will endure. He is with you always."
Biden also touched on the legacy the seasoned sports journalist will leave on the world. "Grant will forever be remembered as a journalist who was bold enough to hold a mirror up to the sports industry so his readers could see the good, bad, and the true," Biden shared.
"He sought the truth the best he could and always stood up for what was right."
"Grant was a good man with a great heart, and I know that his memory will live on through you, all the lives he touched, and all the goodness he brought to the world," he continued.
Biden concluded his letter with the hope he has for Dr. Gounder as she carries the memory of her husband with her. "Celine, it may take many seasons, but I promise you the day will come when the memory of Grant will bring a smile to your lips before it brings a tear to your eye," he wrote.
"My prayer for you is that this day comes sooner rather than later."