Grandma's Doctor Wrote A 'Prescription' To Hug Grandkids After Vaccine
It's been a long year of no hugs, but there's finally hope.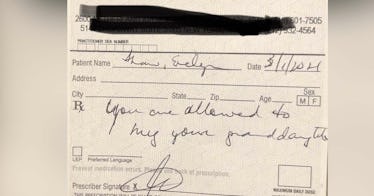 The stretch of time from March 2020 to March 2021 has been really hard. It's been a struggle for families to not have the support our village that it takes to raise a child. We miss our grandkids or grandparents. We want to hang out with our friends and go to large gatherings. It's not possible yet. But, as the vaccination program continues across the world, there's a light at the end of this tunnel. For one grandma, she's finally been able to hug her grandkids, and her doctor made it official for her.
It's been a full year since Evelyn Shaw was able to hug her granddaughter. Speaking to Insider, Evelyn's daughter, Dr. Laura Shaw Frank, said that she and her kids would stand 6 feet apart with masks outside their door to see each other. But they were never able to spend time together for a meal or quality time. It's just not been the same.
"We've been really carefully following the rules and the laws, and what the CDC says and what Fauci says and what Cuomo says and what everybody's telling us to do, we do it. So, it's been a long year," she said. "Since last March, no one has hugged her, and she will not permit anyone to hug her."
Evelyn has received both vaccines for the COVID-19 virus. According to the CDC, she's fully vaccinated. Even still, she's been nervous and hasn't felt comfortable rolling back those rules like physical distance with her family yet.