House of Reps Find Car Seat Manufacturers Endangered Millions of Toddlers
This is extremely troubling.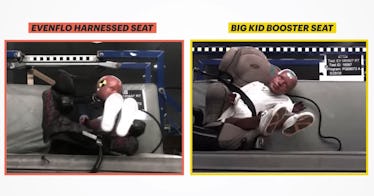 ProPublica
A House subcommittee has found that many manufacturers of children's booster seats have been misleading consumers about the safety and efficacy of their products for years, allegedly putting thousands of children at potential risk for serious bodily harm or death as a consequence.
This new report comes nearly a year after the non-profit investigative newsroom ProPublica published a shocking report alleging that the manufacturer Evenflo deliberately marketed a product, the Evenflo Big Kid booster seat, towards families of children who were not old enough, tall enough, or heavy enough to safely use the product and be protected during a collision. Additionally, the company claimed that these booster seats were "side-impact tested," without explaining that they failed those tests. Indeed, according to test videos obtained by ProPublica, the testing dummies veered outside the bounds of the booster during these collisions, which would have likely inflicted serious head, spinal cord, and neck injuries on children that could be fatal.
At the time of that February report, ProPublica had revealed the extent of Evenflo's misleading marketing strategies, such as labeling the Big Kid as safe for children as light as 30 pounds, which is not in line with the AAP regulation of at least 40 pounds (for context, the AAP recommends that children use booster seats only when they have outgrown more protective harnessed seats).
However, the newsroom wasn't able to determine if other booster seat manufacturers deployed similarly misleading marketing strategies. The subcommittee now says that other companies unfortunately have.
According to ProPublica's latest reporting on the subject, published on December 11, the Subcommittee on Economic and Consumer Policy and the Committee on Oversight and Reform found that the booster seats, which are designed to raise kids up so that they can use an adult seat belt, "endangered the lives of millions of American children and misled consumers about the safety of booster seats."
The fact that Evenflo was marketing a product that was not safe for children is already extremely troubling, and it's also very concerning to hear about how they were able to do it: the company invented its own side-impact test that would all but ensure that they would pass, which they (and pretty much all kids' booster seats manufacturers) were able to do since the National Highway Traffic Safety Administration has not yet put in place widespread standards for the tests. The tests themselves did not mimick true car crash scenarios.
The findings from the subcommittee state that Evenflo is "among the worst offenders" for incorrectly rendering the booster as safe for kids under 30 pounds, but other companies, including Artsana, KidsEmbrace, and Baby Trend were still recommending children under 30 pounds to use their booster seats at the time of the subcommittee's investigation.
And since companies don't have to abide by national testing standards, other companies, including Graco, have given themselves a passing grade for tests that would have likely resulted in serious injury had there been a child in the booster seat. Ultimately, "Evenflo, Graco, KidsEmbrace, Britax, Dorel Juvenile, and Artsana all engaged in deceptive marketing practices," according to ProPublica. Rep. Katie Porter, who has been working alongside Rep. Raja Krishnamoorthi who chairs the subcommittee, to pressure the National Highway Traffic Safety Administration for tougher testing standards, wrote that "Getting this right is a matter of life and death." And indeed it is.