Gordon Hayward Clearly Disappointed to Learn He's Having Another Daughter
With two girls already in the house, the NBA star was obviously hoping for his first son.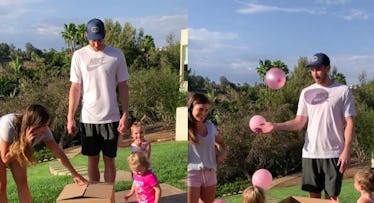 Instagram: Robyn M. Hayward
Boston Celtics forward Gordon Hayward is no stranger to disappointment. Last October, he broke his leg during the first game of the NBA season and had to sit out the entire year, watching from the sidelines as his team advanced all the way to Game 7 of the Eastern Conference Finals. But if that career setback wasn't devastating enough, this week the 28-year-old father of two young daughters learned he was having another girl ⏤ his third in under four years ⏤ and his reaction to the news was laugh-out-loud funny.
Hayward's wife Robyn recently posted a video of the family doing the sex reveal of their third child in the driveway of the family's house. In it, Hayward helps his two young daughters open a box filled with pink balloons to reveal another sister is on the way. Hayward tries to act excited but his hilariously monotone voice — gives away his underwhelmed response to the news. So much so that Robyn seems to quickly catch on to her husband's disappointment and asks asks, "Is daddy happy?"
"Daddy is always happy," Hayward deadpans as he turns away to kick a balloon into the air. Silence soon overtakes the event.
Of course, given how adorable his daughters are in the video, it's hard to imagine Hayward's disappointment will last too long. And while he may have not-so-secretly been rooting for a boy, who knows, maybe one of his three girls will end up inheriting their dad's talent and become a WNBA superstar.