Goop "Smells Like My Vagina Candle" Costs $75 Dollars. Buy Your Wife These 5 Candles Instead
We've got better options.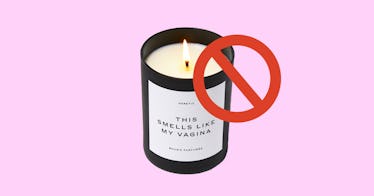 GOOP
There are a whole lot of us who like beautiful things. Great gifts that are thoughtful can bring sunshine on a rainy day. Candles are one of those gifts that work for so many of us because things that smell good make us feel good. And who doesn't love that? Candles can really help recharge or relax, reduce stress, or bring us that warm fuzzy feeling of good memories from the past. Several companies offer some unique scents, but Goop's "Smells Like My Vagina" candle has got to go. Not only is it eye-rolling, but seriously… $75 for a candle?! Also, does this smell like a specific person's vagina? We don't want to know.
According to the Goop, the "Smells Like My Vagina" candle is described as, "funny, gorgeous, sexy, and beautifully unexpected scent, this candle is made with geranium, citrusy bergamot, and cedar absolutes juxtaposed with Damask rose and ambrette seed to put us in mind of fantasy, seduction, and a sophisticated warmth." Sounds pretty, and OK, the name is insane, but just like so many other products from Gwyneth Paltrow's lifestyle brand, the price is crazy for most people.
So, if you're looking to get your wife a pick-me-up candle, you don't have to spend the equivalent to a nice dinner or basically nine months' worth of Netflix to do it. There are fantastic options on Amazon that can give the right aromatherapy without burning a hole in your pocket. Here are 5 great candles on Amazon that will let you stick it to Goop, while still getting a great candle.
1. Chesapeake Bay Candle Scented Candle, Balance + Harmony (Water Lily Pear)
2. Fresh Linen | Luxury Scented Soy Candles
3. Yankee Candle Balsam & Cedar
4. Eucalyptus & Orange, Hand Poured Scented Candles
5. Benevolence LA Bergamot & Jasmine Aromatherapy Soy Candle
This article was originally published on