This Dad's Viral Tweet About the Google Outage Is Truly Chilling
Email going down is one thing. But the heat? Not being able to turn on the lights?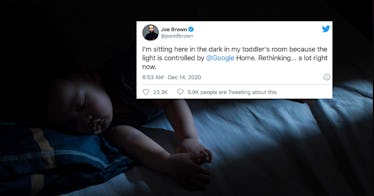 One dad's viral tweet about the Google outage, which was global, should have parents thinking about the cloud — and the cost of going digital. Joe Brown, who works as an Editorial Director of Hearst Autos, threw out a tweet that went viral in the early morning of December 14. "I'm sitting here in the dark in my toddler's room because the light is controlled by @Google home. Rethinking… a lot right now," he wrote.
Many parents can likely see this picture of a dad in the dark, unable to turn on the lights of his own house, in their minds — especially ones who are extremely connected on the internet. Across the world, heat in houses went out, alarms didn't go off, lights stayed off, and the internet was functionally inaccessible. And while the widespread reactions to the outage, which affected facets of people's home lives that feel like a spin-off of the Disney Channel Original Movie Smart House were kind of funny — and Brown's tweet absolutely is — the outage is also somewhat scary.
The Google outage might feel like a minor inconvenience for most working people who aren't parents. After all, not having access to Docs, any GSuite products, GMail, and more makes many people unable to do their jobs. But for some parents, like those who live super-connected, smart-home engendered lives, the outage revealed just how much they rely on Google products in order to do basic things, like play the radio, check the weather, or wake up on time in the morning. On the mundane, or non-threatening, end of the spectrum, there's stuff like waking up your kid in the dark. Parents might consider getting a back-up email account on a different service than Google, should something like this happen in the future (and it likely will.) But on the other, and more scary end of the spectrum, the outage might have helped parents realize how much they rely on cloud tech for their safety and for their daily lives.Should we really have our light switches connected to the cloud? Is it really worth the convenience of saying "Google turn on the lights" when, in an outage, we can't turn on the lights ourselves? What does it mean if the heat turns off and can't come back on because an essential internet service has crashed? What if instead of an outage, a massive Cloud leak releases your family's personal information, from your kid's favorite song, to their name and birthday, to where you live, and more? These thoughts, while potentially fantastical, should come to mind to all parents who want to keep their kids safe in the digital ge. Many parents might consider going analog — or at least, a little more analog — after this morning's outage.
This article was originally published on