Google Meet Is Suddenly Free. See Ya Later Zoom?
Will Google Meet knock down Zoom from its throne?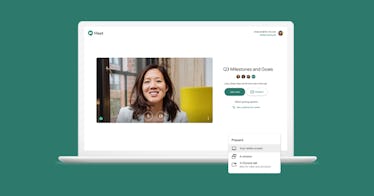 Google
Zoom, the video conferencing app, has obviously exploded in usage since millions of workers across the globe have begun working from their living rooms and desks at home. But since it's explosion in usage — an subsequent rise in the stock market — Zoom has been plagued by privacy problems and "Zoombombing," an event in which hacker break into Zoom rooms and post racist messages, pornography, or otherwise harass meeting participants during dissertation defenses or school meetings or even in the middle of class.
Zoom has raced to fix these issues by launching waiting rooms in which meeting organizers have to allow people into their rooms before they can enter, among other measures, but the early mistakes have caught the once-small company in a game of catch-up — and allowed other video conferencing companies to try to step in and offer safer, more secure video conferencing software for teams who might not want to see Swastikas or penises while discussing Q4 earnings.
Enter Google Meet, which is now offering all of its services for free until September 30. Google Meet, which was formerly only offered to enterprise and education customers (like teachers and others), has now been offered to anyone with a Google account. Any Gmail or GSuite user can now create free meetings of up to 100 people.
And while Zoom has had to scramble to fix privacy and security issues on their platform, many of the features that distinguish Google Meets are built in by virtue of being a Google product. No one can join a meeting just by a link, they need to be logged into their Google account. All Google Meets video hangouts will also have green rooms where video members need to be let in by hosts.
Will this make Zoom a software of the past? Probably not. Its usage has already exploded, tons of companies have launched corporate accounts, and many people have already gotten used to the software. But it is another competitor to Zoom's throne, and it might actually be a safer (and freer) alternative.