The Weird Story of How 'Goodnight Moon' Was Suppressed By a Snobby Librarian
There's still time for the book to catch up.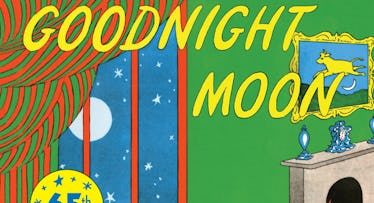 Credit: HarperCollins
One of the best things we can do for our kids is read to them when they're young. It's typically built into our bedtime routines with our children, reading the same story over and over while they try to put off going to sleep. One of the most popular books for kids is Goodnight Moon, written by Margaret Wise Brown. I have a copy of it, my kids have a copy of it, and it's still a popular book to gift new parents. There have been several spin-offs and spoofs of the original, and as it turns out, it may have been more popular if it wasn't for a snobby librarian in New York.
The New York Public Library released a list of the 10 most checked-out books in its history, and surprisingly, there were several kid books on the list. The top spot was a book for kids; The Snowy Day by Ezra Jack Keats, The Cat in the Hat by Dr. Seuss had the second spot, and there were several more on the list. But missing from the list is Goodnight Moon which is surprising. Sure, we could assume maybe everyone everywhere had their own copy, but the reason is a whole lot saltier.
The New York Library didn't carry the book—it was basically banned for 25 years because "influential New York Public Library children's librarian Anne Carroll Moore disliked the story so much when it was published in 1947 that the Library didn't carry it … until 1972."
Chances are you've never heard of Moore, but she was a pretty big deal in the world of literature, specifically for kids. According to a blog post written by a children's book blogger and former New York Public Library librarian, Betsy Bird, Moore was "one of the first women to head up children's collections in a major library system in the United States. She came to prominence just after an era when children weren't allowed in libraries at all."
And this gave her a lot of sway over what types of books the New York Public Library would carry. She apparently loved books like Beatrix Potter and The Velveteen Rabbit, stories where there was a whole world of magic and imagination. Knowing this, it's easy to see why she didn't care for Goodnight Moon—Brown's writing style was more "looking at the mind of a child, operating at the level that a child understands," Bird tells Slate. "She was trying to get down on their level, whereas Anne Carroll Moore placed herself above the children's level, handing what she viewed as the best of the best down to them."
25 years went by before Goodnight Moon was added to the library to be able to be checked out by families– so they have some catching up to do and why the book made an Honorable Mention in the Most checked-out books in history. "That lost time bumped the book off the top 10 list for now. But give it time."