Goodbye, Hot Topic: Amazon Is Buying Out Mall Space
Amazon stores inside the mall could be the new normal.
by Isabella Bridie DeLeo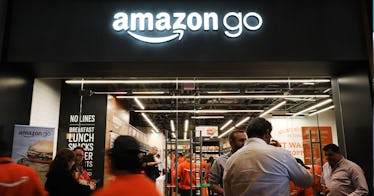 Getty
There's no question that Americans are doing much of their shopping online during the pandemic. It's safer than in-person shopping, but our stronghold on e-commerce means that already-struggling malls and department stores are suffering even more. And now, Amazon is taking a big step that could portend a potentially dismal future for the American mall: The internet giant is considering buying mall space to use as fulfillment centers, The Verge reports. That means that when, or I suppose if, shoppers do return to malls, people might be buying their Auntie Anne's pretzels or doing their school shopping next to an Amazon processing center. What ambiance!
But from the perspectives of Amazon and Simon Property Group, the potential move might make sense. Simon Property Group is the biggest mall owner in the US, and own and operate 49 separate malls across the country. They also scrambled at the beginning of the pandemic in April to try to make shopping safer for consumers. It's hard to tell if those efforts helped keep foot traffic alive. Studies show that 30% of consumers said that they shopped online regularly before the pandemic struck, whereas now 44% of shoppers say that they are buying online more often. The number of chains filing for bankruptcy or closing some of their locations reflect that change. MarketWatch reports that Ascena, the parent company of Lane Bryant and Ann Taylor, has filed for bankruptcy, and Bed Bath & Beyond is set to close 200 stores soon. Neiman Marcus, JCPenney and Lord & Taylor are also set to close down.
Unlike retailers, business for Amazon is booming, as it has doubled its net profit year over year to a whopping $5.2 billion. Many malls have already reopened across the country, including dozens owned by Simon Property Group, or are in the process of reopening. Shopping already looks different than it did pre-COVID-19, with many food courts closed and decal tape in place to encourage social distancing. In all likelihood, malls will continue to look very different, as familiar department stores shutter with Amazon potentially gear up to take their place.