You Can Add Farm Animals to Your Video Calls with "Goat 2 Meeting"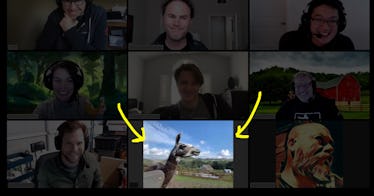 Sweet Farm
Using a virtual background to make it look like you're sitting in front of the Taj Mahal or onboard the Millenium Falcon is one way to liven up your Zoom calls. Hiring a goat to make a special live appearance is another.
California animal sanctuary Sweet Farm came up with the gambit, which allows you to add a tour of its idyllic grounds, complete with introductions to some of its residents, to your next video call. It's called Goat 2 Meeting, a pun worthy of even the corniest of dads.
Goat 2 Meeting can be a salve to the socially isolated in these uncertain times. And speaking of uncertainty, it's also a damn clever fundraising ploy as COVID-19 causes economic contraction and uncertainty depresses donations to non-profit organizations like Sweet Farm. Here's how it works.
For $65, you can add a caprine touch to your video call of up to six people, with a virtual private tour of the farm and a chance to meet a few different animals over the course of a 20-minute call. For $35 more, you can expand the tour to 15 people.
For $100, you get a corporate meeting cameo: unlimited guests, ten minutes, and the chance to say hello to a goat. The creme de la creme is the corporate meeting virtual tour, $250 for unlimited guests to receive a 25-minute virtual tour of the farm and see a bunch of different animals. Turkeys, pigs, llamas, chickens, and even a cat all call Sweet Farm home, and could all potentially make an appearance on a Goat 2 Meeting call.
To sign up for what we can all agree is an invaluable service, simply visit Sweet Farm's website and navigate to the scheduling platform. From there, it's simple to choose your date and time, paste the link to your video call, and enter your payment information.
The whole enterprise is a lovely distraction and a way to help a worthy organization; you might even say it's the GOAT of publicity stunts.
This article was originally published on