Poll Confirms 2020 Was the Most Stressful Year Ever
This should come as a surprise to no one.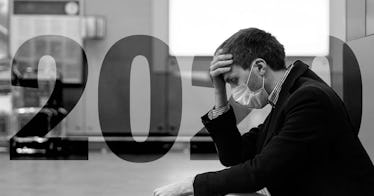 It's no secret that 2020 was a tough year for pretty much everyone thanks to a global pandemic that resulted in the death of millions worldwide and forced everyone to quarantine for the better part of the year. And Gallup's Global Emotions Report confirmed that this was one of the most stressful years in human history, as the number of people who experienced stress on a daily basis jumped significantly in comparison to previous years.
According to the report, 40 percent of people around the world said they had been stressed for much of the year, which represents a five-point jump from 2019 and a double-digit jump from 2010.
"This five-percentage-point jump from 35% in 2019 represents nearly 190 million more people globally who experienced stress this often," the report explained. "Overall, there were double-digit increases in stress in 21 countries and areas and more."
A five-point jump may not seem massive but it's worth noting that humans were already reaching historical levels of stress before we had to deal with all of the fallout from COVID, so this additional jump emphasizes just how stressful life has become for people around the world. Additionally, the global population also said they laughed and smiled less on a daily basis compared to previous years, along with feeling more anger, sadness, and worry in their day-to-day life.
While 2020 was an extremely stressful year for all of humanity, it was an especially stressful time for parents. Moms and dads all around the world had to somehow try to balance working full-time while raising their kids without school while taking care of their own mental health, while also taking care of the mental health of their kids. The American Psychological Association found that most parents were not receiving the help or support they needed during the pandemic and were experiencing a lack of sleep and an increase in stress as a result.