Dad Goes Viral on TikTok By Helping Kids Practice Heavy Metal Screams
"We are a musical family."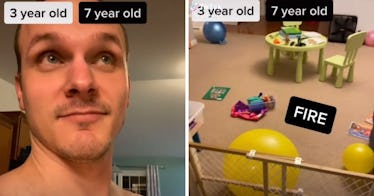 TikTok / skeptikmetal
Parents often take special joy when their kids share interests or hobbies with them. Be it soccer, or puzzles, or drawing, when a kid likes what mom or dad likes, parents tend to… go a little overboard. And one dad, who has since gone viral on TikTok with his videos, couldn't hide his joy as his kids showed interest in his favorite music — heavy metal. In fact, a series of videos show, he happily worked to perfect their heavy metal screams.
A dad of two young kids went viral on TikTok, showcasing his little ones working on perfecting their death growl. Hearing our kids scream usually causes us to cringe while trying to figure out why they're screaming. Still, for Topher, who goes by skeptikmetalon TikTok, it's quite the opposite.
The proud dad recorded a video of his two daughters, 3 and 7 years old, practicing their heavy metal screams. They tried out their skills on several metal-esque phrases like "fire," "blaze in," and "the force of fire." They also went another direction and tried some interesting phrases such as "planets," "water," and "Halloween."
As if the little girls screaming in their best death metal voices wasn't enough to go viral, the two sisters are adorably encouraging each other to try new words. The dad uploaded the cute video to TikTok, and it racked up 1.7 million views.
The very proud dad shared a follow-up video in response to the clip of his girls going viral. He explained that they're "camera shy," so they're not ready to be shown on his platform, which is a great way to be a supportive dad without violating his kid's boundaries. To the delight of many commenters, dad said the girls have already started their own band called Ninja Puppy Sisters. They're already working on their first song.
Sounds like this musical family knows how to have fun, and we're excited to hear more from Ninja Puppy Sisters.
This article was originally published on