Troup 6000 Is The Excuse You've Waited For to Order A Ton of Girl Scout Cookies
The best time of year has come! Here's how to support Troop 6000.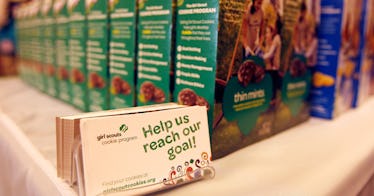 Paul Morigi/Getty Images for Girl Scouts of the USA
It's the best time of year! Girl Scout cookie season has officially begun. Dreams of eating Samoas, Thin Mints, and Tagalongs can finally be fulfilled. If you're on the hunt for a Girl Scout troop to support through the cookie program, buy from Troop 6000.
Troop 6000 is a special troop — a program was designed to support girls living in New York's shelter system. The Girl Scout troop aims to provide community and consistency to girls who are living at the shelters as they and their families become more financially stable and move into permanent housing, according to Good Morning America. The average stay a family has in the shelter system in New York is approximately 18 months – and the Girl Scouts are a welcome support to the girls.
Typically, the troop a girl joins in Girl Scouts is the one that's closest to where they live. Since girls in the shelter system don't always have stability and community, Troop 6000 aims to give them some of that – and to build a support system while allowing opportunities for learning, too.
When the girls transition out of the shelter system in New York, the Girl Scouts have their back then, too. With its Transitional Programming Initiative, the girls from Troop 6000 will have financial support to join the Girl Scout troops in their new community.
"Each week, the Girl Scouts in Troop 6000 meet at 20 different shelters across the city where trained troop leaders aim to mentor and empower the girls," Good Morning America writes. And, yes, they sell cookies, too!
The cookie selling strategy has had to pivot over the past couple of years thanks to the pandemic. Now, for this year again, cookie sales for Troop 6000 will be exclusively online. And the support the troop has already received has had a big impact on Troop 6000.
"All of us at Girl Scouts of Greater New York are blown away by the recent outpouring of support for Troop 6000 in the form of Girl Scout Cookie purchases, and we are incredibly thankful that so many have felt moved to help us sustain and grow our effort to serve girls living in New York City family shelters," Heidi Schmidt, director of Girl Scouts of Greater New York's Troop 6000, said in a statement.
"All of the proceeds will help us bring Girl Scout programming to the hundreds of girls of Troop 6000, creating unique opportunities for them to build confidence, develop leadership skills, and be part of a supportive community of sister Girl Scouts," Schmidt added.
You can buy cookies from Troop 6000 on the Girl Scouts of NYC website.
This article was originally published on