There's a New Way to Get Girl Scout Cookies (Fast)
The ingenuity of Girl Scouts come through again.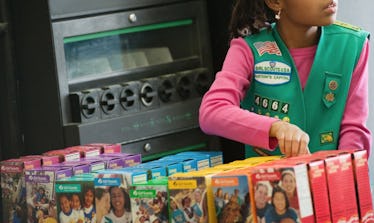 Sarah L. Voisin/The Washington Post / Getty Images
If you're a parent, you probably know a Girl Scout in your life, and eagerly await Girl Scout Cookie season with earnestness. But what if you don't know any Girl Scouts, or have no idea how they are selling cookies in the pandemic era? How are you to rely on the one treat (or, boxes of treats) that we can continue to count on through thick and thin – Girl Scout cookies? Well, if you're hitting up all your other parent friends about where to find a Girl Scout in time for cookie season, worry no more. There's a simple solution. Here's what you need to know.
January 11, 2022, kicked off the new Girl Scout cookie season. In typical years, Girl Scouts set up purchasing booths or go door to door or force their dads and moms to bring order forms to their offices and places of work to sell their cookies. People would find them outside their favorite grocery stores, in markets, and door-to-door in some communities, or pressed upon them at the water cooler. There are worse things that can be peddled: Girl Scout cookies support the orgnaization, but they're also really, really freaking good. (Trefoils forever!)
For the past few years, and continuing this year as well, selling cookies the traditional ways hasn't been possible for Girl Scouts. But given the organization teaches resilience, problem-solving, and rewards inventiveness, it's no surprise they've come up with a solution that allows us to stock up on our favorite cookies and helps the initiative going to fun the scouts.
Starting in February, Girl Scout cookies will be available to purchase through DoorDash in a new national partnership. The troops will still be involved in the cookie-selling process, tracking and fulfilling orders, but it's a saver for all given the continued ongoing pandemic.
"We are inspired by the resilience and ingenuity of Girl Scouts and cannot wait to see the girl-led innovations in the 2022 Girl Scout Cookie Program," Interim CEO of Girl Scouts USA, Judith Batty said in a press release. "You may see cookies, but we see leadership and adventure in each box."
Proceeds of each box sold through DoorDash will go to the Girl Scout troops to fund projects and other initiatives throughout the year. The cookies will be available for delivery or pick-up. Plus, there's still an option of buying from the local troops if you live in an area where it's safe to resume in-person sales.
To order some cookies, visit DoorDash.com or you can download the app. There you can find out if demand delivery is available in your area. "If not immediately available, continue to check back in to find a local troop nearby," the organization says.
Beginning February 18, you can enter your zip code at girlscoutcookies.org to purchase from a local troop near you. Happy eating!