Get Ready! Free Masks Will Soon Be Available to Every American At These Stores
In early January, President Biden announced he'd distribute hundreds of millions of face masks to Americans for free. And now, you can get them at practically any pharmacy.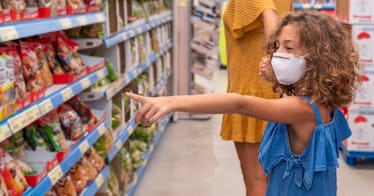 Javier Zayas Photography / Getty Images
If there's one thing that Omicron has taught us, it's that the cloth face masks we've been using to protect ourselves from the spread of COVID-19 are now wholly inadequate. Indeed, some health experts have described lesser face masks like cloth ones as "little more than face decorations" in the midst of the rise of the Omicron variant. In other words, it's totally necessary to beef up our face protections by getting N95 of KN95 masks. But doing something in the name of public health — like getting better face masks — isn't something that should fall on the wallet of families. Thankfully, the Biden administration has released hundreds of millions of high-quality face masks and will distribute them at big box stores like Walgreens, Costco, Publix, and more, all across the country, as well as eventually community centers and soup kitchens so that cost is not a barrier for public health safety.
The CDC- recommended N95 respirator masks have been hard to find lately, but the federal government is unleashing 400 million from the federal Strategic National Stockpile. Every adult U.S. resident will be entitled to three N95s, and, surprisingly, getting them will be a pretty straightforward affair.
Free N95 Respirators for Adults
Since the CDC announced that cloth masks just aren't cutting it for keeping Omicron numbers down, there has been a run on the more effective nonsurgical N95s, making them difficult to come by. To make it easier for people to find the coveted masks, the government partnered with a number of big box stores and pharmacies to distribute 400 million masks taken from the Federal Strategic Reserve, which currently has about 750 million masks on hand.
"This is the largest deployment of personal protective equipment in U.S. history. We've already shipped millions of these masks out," explained White House Coronavirus Response Coordinator, Jeff Zients in a January 21st press conference. And across the coming days, masks will begin to be available at local pharmacies and community health centers across the country."
N95 masks will only be available for adults—despite claims on some counterfeit masks, child-sized N95s are still not regulated.
Where to Find Your Free N95s
Almost all pharmacies and clinics that opted to take part in the Federal Retail Pharmacy Program—the government-funded free Covid vaccine program—will distribute free masks starting in late January or early February.
Starting this week, masks will be available at Meijer supermarkets throughout the Midwestm as well as Kroger stores in the Midwest and Southwest.
CVS, Walgreens, Walmart, and a host of others will participate.
The following major retailers, in an alphabetical list taken from the CDC website, are all taking part in the program:
Albertsons Companies, Inc. (including Osco, Jewel-Osco, Albertsons, Albertsons Market, Safeway, Tom Thumb, Star Market, Shaw's, Haggen, Acme, Randalls, Carrs, Market Street, United, Vons, Pavilions, Amigos, Lucky's, Pak n Save, Sav-On)
Costco Wholesale Corp.
CPESN USA, LLC
CVS Pharmacy, Inc. (including Long's)
GeriMed (long-term care and retail pharmacies)
Good Neighbor Pharmacy and AmerisourceBergen Drug Corporation's pharmacy services administrative organization (PSAO), Elevate Provider Network
Health Mart Pharmacies
H-E-B, LP
Hy-Vee, Inc.
Innovatix (long-term care pharmacies)
Kroger Co. (including Kroger, Harris Teeter, Fred Meyer, Fry's, Ralphs, King Soopers, Smiths, City Market, Dillons, Mariano's, Pick-n-Save, Copps, Metro Market, QFC)
LeaderNET and The Medicine Shoppe Pharmacy, Cardinal Health's PSAOs
Managed Health Care Associates (retail and long-term care pharmacies)
Meijer, Inc.
Publix Super Markets, Inc.
Retail Business Services, LLC (including Food Lion, Giant Food, The Giant Company, Hannaford Bros Co, Stop & Shop)
Rite Aid Corp.
Southeastern Grocers (Winn-Dixie, Harveys, Fresco Y Mas)
Topco Associates, LLC (including Acme Fresh Markets, Associated Food Stores, Bashas, Big-Y Pharmacy and Wellness Center, Brookshire's Pharmacy, Super One Pharmacy, FRESH by Brookshire's Pharmacy, Coborn's Pharmacy, Cash Wise Pharmacy, MarketPlace Pharmacy, Giant Eagle, Hartig Drug Company, King Kullen, Food City Pharmacy, Ingles Pharmacy, Raley's, Bel Air, Nob Hill Pharmacies, Save Mart Pharmacies, Lucky Pharmacies, SpartanNash, Price Chopper, Market 32, Tops Friendly Markets, ShopRite, Wegmans, Weis Markets, Inc.)
Walgreens (including Duane Reade)
Walmart, Inc. (including Sam's Club)
Not all locations will begin handing out masks at the same time, so check with your local chain before popping in. The CDC says that stores that have masks in stock will have signs indicating that they do have masks in stock.
Community Health Centers and Food Pantries Have to Wait
Unfortunately, some of the hardest hit and highest risk Americans will have to wait up to an additional month for free masks to become available. The government is distributing 25 million masks to 1,300 free health clinics and 60,000 food pantries and soup kitchens, but those deliveries won't take place until early March, and people will be limited to two masks per person as opposed to three.
There are no restrictions on who can obtain masks from big box stores; however, access to high-risk populations like those who are unhoused or live in poverty is limited by logistics such as transportation.