You've Got Less Than Two Weeks to Make Your Kid the Gerber Baby
The 2020 photo search has begun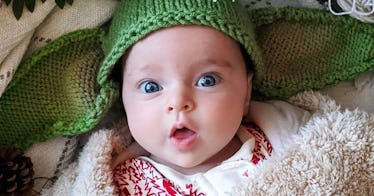 @gerber / instagram
It's that time of year again when your child could become the next face of baby food. Gerber Baby has launched its annual photo search contest to find year's "Spokesbaby," and you have about two weeks left to enter.
The contest first launched 10 years ago and has been a yearly event ever since. This year, between February 5th to February 21st, parents and legal guardians of children between the ages of one day old and 48 months (or you know, 4 years old) are encouraged to submit a photo and application. The company has said that in honor of their 10-year anniversary, they're making it easier than ever to show off why your baby is unique.
"As we celebrate our 10th anniversary of Photo Search, we're extremely proud to look back on all of the babies that we've celebrated and to continue Gerber's longstanding heritage of recognizing that every baby is a Gerber baby," Gerber President and CEO Bill Partyka said. "We always strive to make each year of Photo Search bigger and better than the last, and we encourage families all over the country to submit their little ones for a chance to be a part of this special year with us."
The submission process includes uploading photos and videos of your child and stories on what makes them stand out. After a few rounds of judging to decide the "visual appeal of the child," a grand prize winner is chosen. The winning baby's family will receive a cash prize of $25,000.00 and the baby will be the face of the company for a year.
If this sounds like something you want to get in on, the contest is open now. To enter your child into the 2020 Photo Search for Gerber Baby, read through the official entry rules and visit their online submission portal.
Good luck!
This article was originally published on