George Springer III Comes From a Family That Lives and Breathes Baseball
His dad first discovered his love for America's pastime at abandoned sandlots in the 1970s.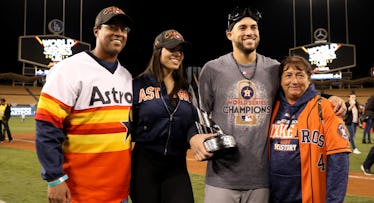 Getty
Last night, the Houston Astros earned their first ever World Series title, closing out the most exciting baseball season in recent memory with a 5-1 win over the Los Angeles Dodgers. George Springer III, the star center fielder for the Astros, was named the World Series MVP after hitting .379 with five home runs, seven RBIs, and a record eight extra-base hits. Despite this only being his fourth season in the pros, Springer has quickly managed to become an essential part of Houston's success as an organization. This may seem like a rapid ascension towards greatness, but a deeper look at the Springer family reveals just how long this story has been in the making.
George Springer Jr., the father of Springer III, is the son of a Panama immigrant, first fell in love with baseball all the way back in the early 1970s, when he was just a seven-year-old playing in empty sandlots with his friends. Springer Jr. became a talented hitter and pitcher and eventually, he made it all the way to the Little League World Series. His team didn't win, but he became a lifelong fan of America's pastime. When Springer Jr. had kids of his own — George III and two daughters, Nicole and Lena — he ended up as President of Walicki Little League to make sure his kids had the opportunity to play the game he loved. And boy did they ever.
While George III is the Springer name you are most likely to recognize, Nicole and Lena have also had a ton of success on the diamond. Nicole, the oldest daughter, played four all-conference seasons of Softball at Central Connecticut State and now is a coach for the Southern Connecticut State University softball team. Lena just finished out her collegiate career as superstar pitcher at Ohio State University. Both Lena and Nicole have played for Puerto Rico in the Olympics.
Springer had his own success on the diamond as a kid, where he managed to always set himself apart with his obvious talent and exceptional work ethic. Despite his obvious connection to baseball, however, Springer III has admitted he almost didn't play. In fact, he has spoken about a chance game of catch with Torii Hunter when he was eight years old that convinced him to stick with baseball. So while the success of George Springer III may feel like a recent phenomenon to the average fan, a quick history lesson shows that for the Springers, baseball is more than just a game. It's a part of the family.