George Floyd's 6-Year-Old Daughter Goes Viral
"Daddy changed the world."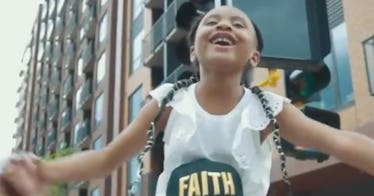 Yesterday, NBA veteran Stephen Jackson — who played for 14 seasons in the NBA on several teams and won a championship with the San Antonio Spurs in 2003 — posted a video of Gianna Floyd, George Floyd's 6-year-old daughter, on his shoulders. George Floyd, who was murdered by former police officer Derek Chauvin, left behind a daughter and a wife and long-time friend Jackson, who has known him for many years. But the protests and massive call for justice in the wake of his death has led his young daughter on Jackson's shoulder to say, "Daddy changed the world."
Jackson posted the video on Instagram of them together and said, "That's right Gigi, Daddy changed the world." He added: "George Floyd the name of change." Jackson has been right by the Floyd's side through this tragedy and spoke alongside the Floyd family at a press conference at Minneapolis City Hall. When Roxie Washington, Gianna's mother, said "Gianna does not have a father. He will never see her grow up, graduate…walk her down the aisle," Jackson responded that he would always look out for the family.
"I'm gonna walk her down the aisle. I'm gonna be there for her… I'm gonna be here for you and Gigi. Floyd might not be here, but I'm here for her," he said, vowing to help the family get justice in the wake of the murder and to provide support through any means necessary.
This article was originally published on