Gen Z Is Listening To… 'The Backyardigans.' Here's Why
We're your backyard friends, 'The Backyardigans.'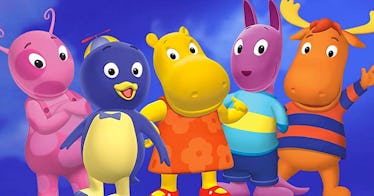 Nickelodeon
The internet is a fun and surprising place nowadays, thanks to Generation Z folk. People born between 1997 and 2012/15 have a knack for making the most obscure things go viral. Often thanks to their use of TikTok and the endless creativity they have. The latest "where did this come from" trend is the reappearance of a popular kids' TV show, The Backyardigans.
If you've never seen the animated show The Backyardigans on Nickelodeon, it's a little hard to explain. Basically, there are a group of five friends: Pablo, a blue penguin; Uniqua, a pink character that sort of looks like a bug; there's Tyrone, an orange moose; Tasha, a yellow hippo, and Austin, a purple kangaroo.
Together, they solve a problem presented in each episode through their imagination while they play in their backyard. Each episode always comes with a lesson that the kids watching can take away.
They infuse the message with lots of catchy songs. Years later, kids and parents still find themselves singing ("hiya pie-ya, I make pie like a samurai," is one that forever lives in my brain). Each episode starts with the theme song where each character introduces themselves.
Each episode ends with a catchy song about snack time. It's one of the shows that the Gen Z people grew up watching and will forever love, it seems. And maybe It's because of the pandemic and everyone has run out of productive things to do, or it's more a nostalgia factor for when problems were far simpler; the Backyardigans are listening to the theme song, causing it to go viral on TikTok and hit the US Spotify Viral 50 chart.
According to Chart Data, The Backyardigans' "Castaways" song, which is a song in the show's first season, has hit the number one spot on the Viral 50 chart. The crew finds themselves on a deserted island. Now castaways, they talk about being stuck on their own, which, to be honest, sounds a lot like quarantine. "On a lonely little island where it's just us three" is something we can relate to a lot more now than when we were kids.
On TikTok, though, it's the show's theme song getting all the views over there. Gen Z is creating their own openings to the show, highlighting each character's personality. Again, because The Backyardigans make grand adventures from their imagination while stuck in their backyard, it feels very fitting today.
And others are recreating the excitement they had when they were younger, and the show was on. Sitting anxiously at the TV while the theme song plays, wondering what adventures the group of friends would find themselves on.
So, while we're not totally sure why The Backyardigans are a hit thing again (and they are, my 14- and 12-year-olds are all over this show out of nowhere), the songs are catchy, the show is all feel-good adventures, and well, we could all do for more of that these days.
This article was originally published on