Yep, Gas Prices Are Rising Again — Here's What It Means For Families
Prices were trending down. But experts warn not to get too ahead of ourselves.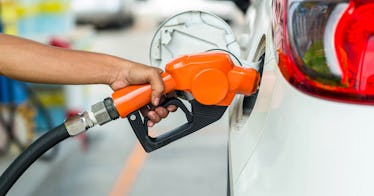 kckate16 / Shutterstock
Life is really expensive right now and for a few weeks we've been celebrating slightly lower gas prices. After reaching a record high price in early March, we've seen a steady decrease over the past few weeks. But experts say the prices are now creeping back up, and here's what that could mean.
Gas prices have been on the rise for over a year. The climb is due to the impact of COVID-19 which altered supply and demand chains. The Organization of the Petroleum Exporting Countries (OPEC) lowed gas production early in the pandemic which resulted in some of the price jumps earlier on. However, the later half of 2021, gas prices were significantly impacted once the U.S. announced sanctions were placed on Russia over the Russian invasion of Ukraine. That had a major impact, with an increase in gas and oil prices by 20 percent, in March of this year.
At that time, gas prices hit an all-time high of $4.33 per gallon of gas, according to AAA. But since then, there's been glimmers of hope that the worst had happened, and gas prices started to steadily decline. However, now experts are warning that the fall in price won't last much longer – and increases are coming.
As of April 20, 2022, the national average for a regular gallon of gas is $4.11, according to AAA. There is certainly some wiggle room left before we get near that all-time-high record. Unfortunately, though, this week gas prices saw the first weekly increase and the national average has increased for four days in a row and counting.
This time last week (April 13), the average price of gas was $4.07; whereas this week, that number has been bumped to $4.11 per gallon. Tom Kloza, global head of energy analysis at the Oil Price Information Service, spoke to CNN an warned there's a chance we could see a gas price above the $4.33 record.
"I would not be laying odds on DraftKings that $4.33 will be the highest price over the next few months. We may go higher," he said. "The market is still scary."
The Energy Information Administration has a different take, reporting it expects retail gas prices to average around $3.84 per gallon during the summer. That price is far lower than the all-time high, however, it's also significantly more than last summer's average, which was $3.06.
It's never easy to not stress when we can't see the full picture yet. And the idea of having our gas prices soar high again is likely leaving many American families feeling stressed. People are already strapped for cash. Some parents admit that they have to skip a meal just to be able to feed their kids.
And having gas prices raise as high as the record or worse, higher, isn't something American families need to add to their already far-to-full plate. However, there are some potential supports on the horizon.
Democratic Reps. Mike Thompson of California, Lauren Underwood of Illinois, and John Larson of Connecticut recently proposed a bill similar to the Child Tax Credit which would provide monthly cash payments to help alleviate the burden of exorbitant gas prices. And the Biden Administration has already pushed some measures to help alleviate the prices by releasing gas from oil reserves and issuing an emergency waiver that will allow year-round sales of ethanol-blend gasoline.
These measures aren't in swing yet. And there's a likelihood that the Republicans may stall the bills. But parents need help now – before the gas prices skyrocket again.