Gary Larson Returns to Save Us With New Far Side Cartoon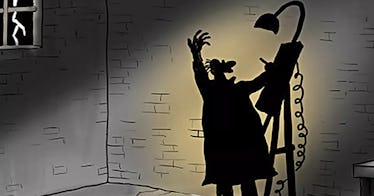 Farworks
Gary Larson — who has been out of the public eye for some 25 years after publishing his final daily comic in The Far Side series — is back. Larson, who ran a daily comic from 1980-1995 in a single panel format, ultimately left the satirical, absurd, and brilliant panel behind many years ago, but according to his website, he's back to playing around with the one-panel-wonders that defined his career.
On Tuesday, Larson posted new comic strips — including beautifully drawn, hilarious one-panels of a man hailing a taxidermist instead of a taxi; bears eating human Cub Scouts at a picnic table in the forest, and one of his all-too-famous cows bringing a mad scientist snacks and a steaming drink as a shadow of the scientist drawing on a canvas.
According to Larson, his return to showing off some of his new work was actually born out of frustration with his typical art form of pen to paper. He bought a digital tablet and felt amazed at how intuitive it was to work on the thing. "Within moments, I was having fun drawing again. I was stunned at all the tools the thing offered… I simply had no idea how far these things had evolved."
Fans of Larson shouldn't get too ahead of themselves, however. Although he's back to publishing new work, it certainly won't be on a daily basis. "I don't want to mislead anyone on here," he wrote in a statement. "This corner of the website — New Stuff — is not a resurrection of the Fair Side daily cartoons. The New Stuff that you'll see here is the result of my journey into the world of digital art. I'm just exploring, experimenting and trying stuff."
Still, even if he's only going to drop a few panels here or there, that's certainly better than what super fans have had to deal with for more than two decades: no Gary Larson at all.
This article was originally published on