Gabrielle Union Can't Do It Without Her Nanny — And She's Ok With That
"I depend heavy, heavy, heavy on our village... It's all hands on deck."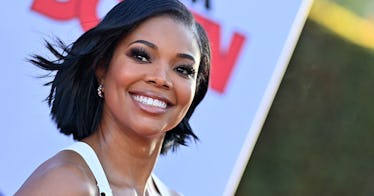 Axelle/Bauer-Griffin/FilmMagic / Getty Images
Gabrielle Union has always been very clear about her parenting priorities. Along with her husband Dwyane Wade, they raise their blended family – which includes Zaya, Zaire, and Xavier, Dwyane's kids from a previous relationship, and Kaavia, their daughter together – with intention. In a recent interview, she touched on life as a working parent and candidly talked about how she does it all — by dispelling the myth that it's even possible to do that alone.
Sitting down with Jessica Curry Morton, New York Times bestselling author of the NAACP Image Award-nominated children's book "Parker Looks Up: An Extraordinary Moment," for Scary Mommy, Gabrielle spoke on balancing motherhood and her career.
But instead of saying finding a balance between work and kids is a work in progress, Gabrielle got very candid, admitting that it requires outside help and grace when she messes up.
"I'm working from home, but I'm on Zooms, starting at 9 a.m. and they can go all the way to 6 or 7," she said. "By the time I'm done with work, I am exhausted. But now we're at bath and book time, and I've missed everything else. So, I drag my tired self and go be present for [a] bath and book and song."
She added: "But it's guilt-ridden and it feels weird. I assumed that working from home, I would see them more, and I physically see them, but they're like ghosts, you know what I mean?"
When she was asked how she's able to care for the children while juggling acting, producing, a curl care line, a children's snack company, and a baby care line, Gabrielle didn't shy away from candidly sharing exactly how she does it. And how does she do it? She needs help.
"I support three households outside of my own household, so I just don't have the luxury of not working and just being as present as I would like to be," she admitted – which is so incredibly rare to hear, but so helpful, too.
"So I have to go to therapy in whatever other little extra time I have to deal with my guilt and my anxiety," Gabrielle continued. "And I depend heavy, heavy, heavy on our village: my sisters, my niece, my mom, my husband's mom. It's all hands on deck."
She noted that she drops "balls all day every day, and I just have to hope people give me grace in the same way I give them grace."
As parents, we know there's this unspoken thing in society that if we're parents, we must figure out how to balance work and home life and parents have to look like they're doing it flawlessly. Parents feel the pressure to be there every second our kids need us, and to still be able to work full-time to put food on our tables and a roof over our heads. It's impossible in practice, and Gabrielle is tired of people's judgments – particularly when it comes to hiring nannies to help care for the kids while she works.
"My dad is forever giving me grief," Gabrielle admitted when asked when the interviewer admitted she gets flack for having a nanny, too. "And I'm like, 'Sir, you dropped me off at your parents' house with a can of SpaghettiOs for the whole day and didn't come back until y'all got off work. So what are you talking about? And you didn't pay anybody.'"
"So if you exploit familial labor, that's perfectly fine, but if I actually pay someone who's certified, qualified to be in child care, then I'm a bad parent? What?" she quipped.
It's really refreshing to hear someone say that they're able to "do it all" because they don't do it all. There's no softening her reality that she works, she likes to work, she has to work, and her kids are doing just fine.