New 'Frozen' Prequel Movie Will Answer a Snowman Question Nobody Thought to Ask
Wanna build a Snowman? An Olaf movie is coming in October to Disney+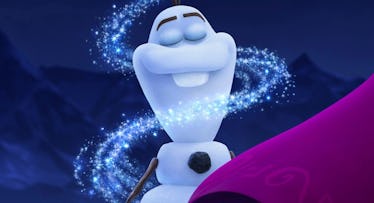 Walt Disney Animation Studios
Most parents have watched some version of Frozen over the years, and it's become clear that one of the kid's favorite characters is a talking and singing snowman named Olaf. He's the comedic relief in the Disney movie, and he's got that lovable, sometimes annoying charm about it. Given his popularity, Olaf is getting his very own short movie that will give fans all the answers to the questions no one thought to ask.
In the popular Disney movie, Olaf was just kind of there. No one seemed to question how he was moving and talking or really where he came from, why he loves summer, and what happened when Elsa created him and how Anna reacted when she first met him. Well, answers to these pressing questions are just around the corner.
Once Upon a Snowman, a new short that's coming to Disney+ sets out to answer all those questions we've had since the first Frozen movie that wasn't answered in Frozen 2. The film will follow Olaf's first steps as he comes to life, meets the other characters in the franchise, and as he comes into his loveable personality, everyone in Arendelle has come to love.
"This is an idea that started to form when I was an animator on the first Frozen," OUAS co-director Trent Correy said in a statement." [Co-director] Dan Abraham and I are so grateful and excited to have had the opportunity to direct this short, working with our incredible colleagues at Walt Disney Animation Studios."
Oh, and of course, Josh Gad is going to be voicing the snowman, as he's done in the other Frozen movies.
"Josh Gad gives one of the great animated voice performances as Olaf through the Frozen films," Abraham continued. "To have the opportunity to work with him in the recording booth was such a privilege and career highlight."
Once Upon a Snowman, an animated short is set to premiere Friday, Oct. 23, on Disney+.