'Friends' Leaves Netflix at the End of the Month: Binge These 5 Episodes Now
The one where we *really* say goodbye.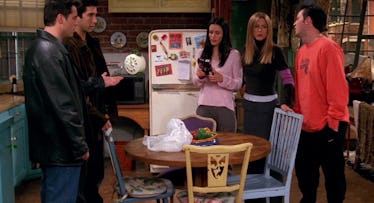 Credit: NBC
We've heard the rumor once before, and we've been pre-warned that the rumor was true, yet it still feels sad. It's official that Friends is leaving Netflix at the end of this month. We've now got just over three weeks to get our fill of these memorable characters because come January 1st, these Friends will no longer be there for you when you're looking for something to watch at 3am while you're up with your vomiting child.
Back in 2018, it was revealed that Friends was getting set to leave the Netflix streaming platform. The news received an immediate response from Friends fans who were upset about the departure. At that time, Netflix was able to make a deal to keep the series watchable, but that was only for a short time. And that time has come to say goodbye as the series sets to move to their new streaming home, HBO Max, in 2020.
As of right now, HBO Max is set to be up and running in May 2020, so there are a few months of downtime between Friends leaving Netflix and when it's watchable again on the new service.
But, as we said, you've got about three weeks left before it's officially gone, and that's just enough time to binge the best Friends episodes. While everyone likely has their own top 5 favorite episode list, here are the ones we suggest you watch asap, while you still can.
1. "The One With the Proposal" (Part 2) (Season 6, Episode 25)
It doesn't matter if you're a romantic or not; this is an episode that is a must-watch. Monica and Chandler both propose to each other and the love and passion can be felt through the screen. If you didn't love this couple, this episode hits you in the feels so hard that you'll fall right in love, too.
2. "The One Where No One's Ready" (Season 3, Episode 2)
If you're someone who has to be chronically early, you'll get the feels for Ross in this one. If you're chronically late, you can have a good time laughing along as the gang doesn't get ready on time and the panic that Ross has. Oh, and Joey wears everything, and that's classic.
3. "The One Where Everybody Finds Out" (Season 5, Episode 14)
The relationship between Monica and Chandler was a secret for a long time, and this episode, everyone finally finds out. The ploy to get Chandler and Monica to finally admit that they're together is legendary, and it's the best to see this whole gang clue into the fact these two are in love.
4. "The One With Unagi" (Season 6, Episode 17)
Everyone knows UNAGI if you're a Friends fan. If you're not yet, watch this one and you'll fall in love with Ross' quirky personality. This episode was an instant classic because even though we've been watching this crew for 6 seasons, there is so much more we learn about them here.
5. "The One With The Jellyfish" (Season 4, Episode 1)
If you were not sure of the moment that everyone wondered if Monica and Chandler were ever going to end up together, you watch this one back and see this is where it all started. They had a very personal moment together here.
OK, now that you've got your list, time to get binging.
This article was originally published on