Kids Can Take Free Online Drawing Classes From Disney Right Now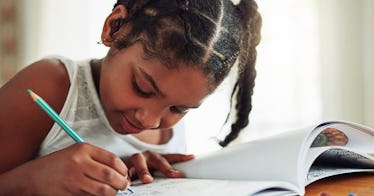 There is a lot about these past few months that have been strange and challenging. As more parents than ever are juggling working from home and caring for the kids, we have had to find creative ways to make the seemingly impossible juggle happen. Young kids, who are used to being fully engaged in daycare or school, now have to find ways to entertain themselves. And as parents, we have to find those activities that our kids can do on their own that allow us to get through another Zoom call or finish up our deadline.
Thankfully, the internet exists and with it comes a whole slew of activities that we can throw at our kids to keep their brain from turning to mush and our sanity intact. One of these activities comes from the a company that knows how to engage kids' imaginations: Disney. The company has released a collection of free drawing classes that teach our kids how to bring their favorite Disney and Pixar characters to life with a pencil.
Disney's cast member Stephen Ketchum has been a Disney artist for years, and he's sharing his expert tips and tricks for free, along with other artists who have worked with these characters for the actual movies. There are about 20 free lessons teaching how to draw all the best Disney and Pixar characters, including a how-to on drawing three different versions of Mickey Mouse, even the original 1920's Mickey.
Each class lesson ranges in time between 10 and 20 minutes, so they're long enough to allow parents to get something done, and not too long that kids will lose interest. They're geared more towards older children since there are some listening and following instructions involved. But, being available on YouTube means the kids can pause and where needed and go at their own pace.
Most of the kid's favorite characters from the Disney and Pixar movies are available in a lesson—including Olaf from Frozen, Jack Skellington from The Nightmare Before Christmas, Genie from Aladdin, Tinker Bell from all those movies, and Buzz Lightyear from Toy Story.
For a full list of available tutorials, check out Disney Parks Blog.