Could There Be a 4th Stimulus Check? Here's What to Know
Here's what's behind recent speculation that a 4th stimulus check could be on the way.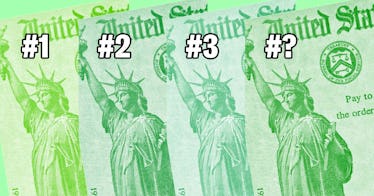 Millions of Americans received their third stimulus check this month. And while Americans have received something to the tune of over $2,000 in direct payments from the federal government, many people are wondering: will there be a 4th stimulus check? After all, the COVID-19 crisis is not over, and although employment rates are rising, the climb back to normalcy is far from over. So, will there be a 4th stimulus check? Are people even asking for it? Here's what to know.
A Group of Senators Are Pushing for More Stimulus Checks
Some lawmakers are already pushing President Biden to deliver a fourth round of stimulus payments in the next spending bill.
Ten Democratic senators wrote an open letter to Biden in early March thanking him for the latest round of stimulus relief while encouraging him "to include recurring direct payments and automatic unemployment insurance extensions tied to economic conditions in your Build Back Better long-term economic plan." The letter, which was signed by Elizabeth Warren, Bernie Sanders, Cory Booker, and Tammy Baldwin, called for recurring payments, though an amount was not specified.
"Data shows that direct payments and enhanced unemployment insurance are among the most effective forms of relief available. Not only do these payments help keep families out of poverty, but they act as economic stimulus by increasing spending and supporting jobs," the group wrote.
Will The White House Give Out Any More Stimulus?
It's hard to say. So far, the White House has not commented on the letter, and given the amount of effort it took to pass the last round of stimulus checks, the fourth round of stimulus may not become a reality any time soon. The Biden administration is developing the Build Back Better plan, a proposed $3 trillion infrastructure bill that will be designed to build back the economy after the COVID-19 pandemic. However, there have been no indications that more stimulus checks will be a part of the bill, though plenty that will help parents will be.
For example, there are plans to increase child allowance payments. The $1.9 trillion stimulus plan already expanded the Child Tax Credit for the rest of the year, increasing the credit from $2,000 annually per child to $3,000 for kids between ages 6-17 and $3,600 for children below the age of 6. But Biden's $3 trillion-ish proposal would include payments through 2025. But still, there's no mention of stimulus payments (yet.)
So can you expect another round of stimulus? For now, no but there is a legitimate push for recurring payments to become a reality and the best bet would seem to be including it as part of Biden's Build Back Better plan.
This article was originally published on