This Country is Launching a Massive 4-Day Workweek Pilot — With No Pay Cut
30 companies all in all are trying a 4-day workweek pilot for six months in a massive UK program.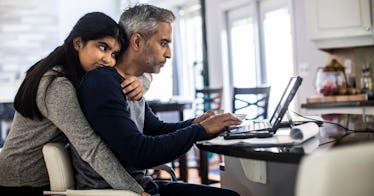 MoMo Productions / Getty Images
Feeling burned out? You're far from alone. Pandemic or not, the long-broken balance between the time we spend at work, how productive we are at work, and how much time we get to spend at home with our families has been pushing working parents down for years. The elusive work-life balance people keep talking about seems impossible to achieve. And while the link between work hours and productivity seems broken, But what if we had a 4-day workweek instead of 5? The United Kingdom is launching a new pilot program for 30 companies — that could radically alter the standards of work.
Approximately 30 companies in the UK are taking part in the pilot program which will run from June to December 2022. The pilot is being overseen by 4 Day Week Global in partnership with the think tank Autonomy, the 4 Day Week UK Campaign, and researchers at Oxford University, Cambridge University, and Boston College.
In the program, participating companies will ask employees to maintain their productivity but will only work 80 percent of the time since moving to an extra day off each week.
"More and more businesses are moving to productivity-focused strategies to enable them to reduce worker hours without reducing pay," Joe O'Connor, pilot programme manager for 4 Day Week Global said. "We are excited by the growing momentum and interest in our pilot program and in the four-day week more broadly."
Previous pilot programs around the world have shown major benefits to reducing work hours to four days instead of five. A shorter workweek pilot in Iceland had incredible results when a shorter workweek was implemented. Moving from 40 hours a week to 32, workers were healthier, more productive, happier, and motivated to do more. They were also far less stressed and since the stats were released, 90 percent of workers in Iceland have been able to reduce their work with amazing results.
And that's what this new UK pilot is hoping to see as well. "The four-day week challenges the current model of work and helps companies move away from simply measuring how long people are 'at work,' to a sharper focus on the output being produced," O'Connor said. "2022 will be the year that heralds in this bold new future of work."
With more countries looking into the shorter work weeks, we have to wonder if the United States will ever trial something like this. It's possible, and California Representative Mark Takano is trying to pass a new bill that would decrease the federally recognized 40-hour week down to 32 hours. Takano also hopes to mandate overtime pay when workers have to put in more than 32 hours a week.
If the United States were to move to a 32-hour week, it would benefit everyone but have a particularly positive impact on parents. While it doesn't seem like the US will get their 4-day workweek any time soon, the UK pilot will serve as further proof, through the data collected, that companies working 5 days a week are archaic and it's time for that to change.