Former James Bond Pierce Brosnan Reveals His Choice For a New 007
The star of 'Goldeneye' and your older cousin's favorite Bond has some opinions about the future of the spy franchise.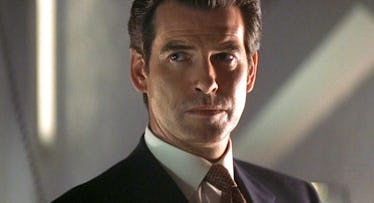 MGM/Sony/United Artists/EON
After Daniel Craig's final outing as James Bond in No Time To Die next year, the role of secret agent 007 will technically be vacant. Because Craig's fifth Bond movie will also be his last, rumors and speculation about what actor will take his place have been rampant for at least two years running. But now, the Bond that immediately preceded Craig — Pierce Brosnan — has revealed his preference for who should play 007 next: Anybody but a man.
On Monday, The Hollywood Reporter published an interview with Brosnan in which the actor said that the time was right for a woman to become 007.
"I think we've watched the guys do it for the last 40 years, get out of the way, guys, and put a woman up there. I think it would be exhilarating, it would be exciting."
Brosnan's comments come not long after a new rumor suggests that a female 007 will already be introduced in the plot of No Time To Die. According to several sources, Lashana Lynch will play a new MI6 agent in the next film who has been assigned the number "007" since Bond departed the service. Some believe this could set-up a new series of 007 films that effectively continue the franchise without the name "James Bond."
Pierce Brosnan played 007 in four James Bond movies — Goldeneye, Tomorrow Never Dies, The World is Not Enough and Die Another Die. For most 007 fans, 1995's Goldeneye remains the moment where the franchise was truly reborn. And of course, who can forget the famous N64 video game of the same name…
No Time To Die hits theaters on February 2020.
This article was originally published on