One Million Fords And Lincolns Recalled Due To Break Fluid Leaks
Here's what you need to know.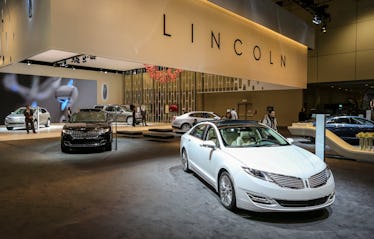 David Cooper/Toronto Star/Getty Images
Ford has issued a recall of more than 1.1 million Ford Fusions and 120,000 Lincoln MKZs due to a faulty brake hose that could cause difficult braking and has resulted in at least one accident.
According to a document from the National Highway Travel Safety Administration (NHTSA), front brake hoses may rupture, an issue leading to the recall. "A ruptured front brake jounce hose will cause a progressive brake fluid leak. The driver may experience an increase in pedal travel together with a reduction in the rate of deceleration, increasing the risk of a crash."
Fatherly has reached out to the manufacturer for comment on the recall but has not yet received a response.
Which Ford and Lincoln Models are being recalled?
According to information provided by the NHTSA, the recall applies to non-hybrid Ford Fusions and Lincoln MKZs manufactured between 2013 and 2018. There are a total of 1,280,726 vehicles included the recall.
Drivers of impacted Fusions and MKZs may notice a different feel to the brake pedal, an increase in the time it takes to stop, and a brake warning indicator light on the dash display, if their car is affected by the problem.
Why are Ford Fusions and Lincoln MKZs being recalled?
The recall stems from faulty jounce hoses that connect the metal brake line to the brake caliper. These hoses may bend, according to the NHTSA, and, over time, begin to leak or even rupture, affecting the vehicle's ability to slow or stop.
What to do if your Ford or Lincoln is affected by the recall.
Ford has submitted a recall notification letter to the NHTSA for approval. Once that approval comes, letters will be mailed to owners of the affected vehicles outlining the appropriate steps to take for repair. The NHTSA estimates letters to be sent around April 17.
Ford dealers will replace the faulty parts free of charge with updated parts. The new parts are made of a "more robust" material that will allow the hose to move and bend without damage.
Vehicle owners that paid out-of-pocket for repairs covered under the recall prior to the recall date will be reimbursed by Ford.
To check if your car is part of the recall, you can enter your vehicle's VIN on their website. You can also reach out to your local Ford dealer for repair information and for recall updates.
For more information on the recall, visit the NHTSA website.