Only One Child Died Of The Flu In The Last Year. How?
The number of child deaths is usually in the hundreds — but not in the year of COVID-19.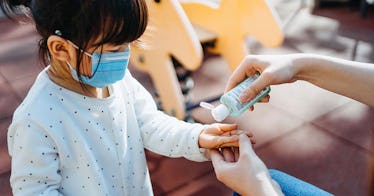 The flu season has been drastically different this year, and a large part of it has to do with people staying at home. Less than ever are kids coming home from school with low-grade fevers, a runny nose, and a cough and having parents brush it off because it's "just the flu." Usually, the only parents who are hyper-aware of following virus-reduction protocols are parents of immunocompromised children, but now in COVID-19 times, things are a little bit different.
Parents caring for medically fragile kids understand the importance of handwashing, sanitizing, and how vital following these rules is to keep germs and viruses away. The common flu could be deadly for their children. And parents who don't care for children with health issues that put them at risk for dying from the flu rarely give it a second thought.
However, living through a pandemic, where following those same virus-reduction protocols are instrumental to reducing the spread of COVID-19, has made this year's flu season is practically non-existent.
According to PBS NewsHour, only one child death has been reported linked to the flu during the 2020-2021 flu season. While one child dying from the flu is one too many, The Washington Post reports that by this time in 2019, close to 200 kids had died from the flu. That is a massive difference in pediatric mortality.
Citing data from the Centers for Disease Control and Prevention, public health experts say that with the masses following mask-wearing, physical distance, and handwashing, we've seen an "unprecedented decline in flu deaths."
"I think that that obliteration of the flu epidemic, which was seen globally, tells us that the way that influenza is transmitted from one person to another might really have been impacted by the use of masks, more than anything else," Dr. Flor Munoz, a member of the American Academy of Pediatrics' infectious-diseases committee told The Washington Post.
All of this isn't an invitation to take the flu any less seriously. Experts still recommend anyone six months and older get the flu shot this year. The decline in flu cases does show that measures like handwashing and staying home while sick is effective. And maybe, whenever life goes back to "normal," parents will be more on top of keeping their sick children home in order to lower the spread of the flu, which is still a deadly virus.
Statistically, the flu season is expected to roar back next year. Unless, of course, we treat each flu season like we have COVID. Keep our sick kids home, wash our hands more often, and get our vaccinations.