Flu Cases Dropped Dramatically in 2020. That's Amazing News
Researchers were worried the flu + coronavirus would be disastrous.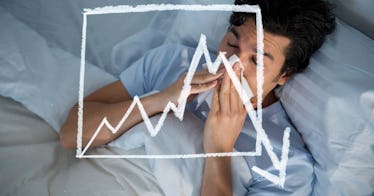 This past year has been more challenging for people than anything our generation has experienced before. With everything bad that's happened because of the pandemic, there's been one silver lining: flu cases are way down. According to statistics, flu cases have dropped just over 97 percent, and that's amazing news. Here's what's going on.
Flu Cases, Globally and Nationally, Have Dropped Dramatically
According to Scientific American, influenza cases all over the globe have dropped to "minuscule levels." We're not seeing nearly the same numbers as we have in previous years because of the health measures in place to help slow the spread of COVID19 — hand-washing, mask-wearing, staying home when sick, and socially distancing.
As Have Flu Deaths
The publication reports approximately 600 deaths attributed to influenza during the 2020-2021 flu season in the United States, which typically peaks between December and February. Compared to previous years, where the numbers in the 2019-2020 season saw roughly 22,000 deaths, and the 2018-2019 season had more at 34,000 deaths, 600 is a 97 percent drop. So why is that happening? Are the typical flu deaths being categorized as something else?
Why Are Flu Deaths, and Cases, so Low?
Nope. The numbers are so low because the flu isn't around. "There's just no flu circulating," Greg Poland, a researcher who has been studying the flu for the Mayo Clinic for decades, told Scientific American. Because of the measures in place for COVID, including increased handwashing, wearing masks, and staying home when sick, no one is out there spreading the flu either.
"It turns out if you drastically reduce global travel, close public workplaces and schools, and promote mask-wearing and handwashing, you'll cut off opportunities for common pathogens to spread," AXIOS wrote.
While the public health measure has a big hand in reducing numbers, AXIOS also reports that a "record number of flu vaccine doses have been shipped this season," likely due to the fact that people were concerned about the flu in a COVID season.
It's estimated about 54 percent of American adults received a flu shot by the end of December 2020. That number was "significantly higher" than the previous year, as experts urged adults to get the flu vaccine.
Doctors were worried the flu season would cause a double hit to the health care system—that adding the typical thousands of patients hospitalized for the flu with the influx of coronavirus patients may drain the resources. But thankfully, that didn't happen.
While experts aren't sure what's going to happen next year with the flu season, the drastic drop in cases this year is great evidence that masks, hand washing, and staying home when sick could save thousands of lives every year.
This article was originally published on