Florida Can't Enforce Mask Mandate Ban, For Now
"We are not in normal times. We are in a pandemic."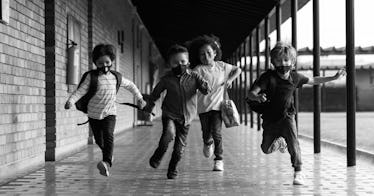 Leon County Circuit Judge John C. Cooper ruled yesterday that Florida must immediately put an end to Governor DeSantis' controversial ban on mandating masks in school, arguing that the ongoing pandemic was putting children at risk of contracting COVID.
"We are not in normal times. We are in a pandemic. We have children that can't be protected by vaccination," Cooper explained in court, according to NBC Miami. "Children are at risk and they provide at least some protection by masking."
DeSantis, who has also pushed back against vaccine passports, issued an order that school districts would not be able to require masks to be worn at school and went so far as threatening action against districts that defied the order and implemented mandates. In August, the Florida Board of Education voted to withhold funding from two school districts in the state that are requiring masks in school.
In the meantime, those districts pushed back against DeSantis by continuing to enact the mask mandates in defiance of the Governor's law, regardless of what it means financially. And it looks like that gambit paid off, as the judge presiding over the case more or less told DeSantis to back off and that the districts can do whatever they want.
More specifically, Cooper ruled that school districts have a right to set mandates so long as they have "compelling state interest."
Despite DeSantis' aggressive anti-masking agenda, Florida is not one of the five states that the Biden administration's Education Department launched a civil rights investigation against last month due to making mask mandates illegal. While states like Florida and Texas have taken action to ban requiring masks at school, they were not chosen for the investigation because they "are not currently being enforced as a result of court orders or other state actions."
The Center for Disease Control and Prevention has recommended masks for all individuals ages two or older, including teachers, staff, students, and visitors to K-12 schools, regardless of vaccination status. According to the CDC, the risk of COVID outbreaks at schools greatly increases without the use of masks, while requiring masks should make school generally safe for everyone to attend, even at-risk individuals.