Florida "Don't Say Gay" Bill Would Ban Any Mention of LGBTQ+ Identities in Schools
The bill has already passed the Florida Senate Education Committee.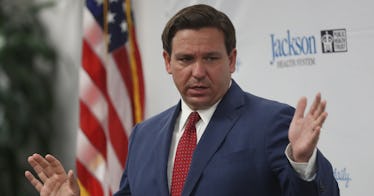 Joe Raedle/Getty Images
Florida Governor Ron DeSantis has put his support behind a bill that will bar the "discussion of sexual orientation or gender identity" in primary schools in the state.
According to NBC News, DeSantis was asked by reporters at an event in Miami on February 7 where offered his endorsement of the Parental Rights in Education bill – also known as the "Don't Say Gay" bill. The bill, if passed, would require the implementation of "procedures to reinforce the fundamental right of parents to make decisions regarding the upbringing and control of their children."
This includes banning teachers from encouraging or allowing conversations about LGBTQ+ topics in the class that aren't' "age-appropriate or developmentally appropriate for students."
Legal vaguery aside, the bill would not only limit what an educator can teach but it could also stop an educator from discussing anything about their life. A gay teacher, for example, likely would think twice before sharing that they are married to someone of the same sex or sharing any information about their family and kids.
The same bill will allow parents to take legal action against the school district if they feel their "fundamental right" as a parent was violated. Which, essentially, means that schools aren't going to go anywhere near the topic.
"Schools need to be teaching kids to read, to write," DeSantis said at the event in Miami. "They need to teach them science, history. We need more civics and understanding of the U.S. Constitution, what makes our country unique, all those basic stuff. The larger issue with all of this is parents must have a seat at the table when it comes to what's going on in their schools."
While DeSantis didn't outright say that he would sign the bill into law, "it was the first time the Republican governor signaled his support for the measure since it was proposed by the state's House of Representatives last month."
The bill has been strongly opposed by many, including the White House, warning that a bill such as this would be incredibly harmful to the mental health and safety of LGBTQ+ students, and the teachers, too.
"Banning speech about sexual orientation and gender identity in Florida classrooms would not only be an infringement on civil rights, it would erase entire chapters of history, classic literature, and critical health information from textbooks, to say nothing of erasing students themselves," Sam Ames, the Trevor Project's director of advocacy and government affairs, said in a statement to CBS News.
This bill comes on the heels of other so-called free-speech freezing rules, including bills that have led to dozens of books being pulled off of school library shelves that were once a part of school curriculums, bills that have banned teachers from saying or teaching anything that might make white students have to feel uncomfortable about their race, or even bills that ban trans kids from playing the sports that correspond to their gender identity, or makes gender-affirming health care illegal, it's clear that this isn't an isolated incident, and is instead a part of a wider trend.
"Make no mistake—this is not an isolated action. Across the country, we're seeing Republican leaders take actions to regulate what students can or cannot read, what they can or cannot learn, and most troubling, who they can or cannot be," a spokesperson for the White House said in a statement. "This is politics at its worse, cynically using our students as pawns in political warfare."
Florida wouldn't be the first state with similar laws in place. According to a nonprofit group advocating for LGBTQ+ students, GLSEN, Mississippi, Louisiana, Oklahoma, and Texas all have laws similar to the one proposed in Florida.
In addition to that, three other states – Montana, Tennessee, and Arkansas – have already passed bills last year similar to the latest Florida bill which allows parents to "opt students out of any lessons or coursework that mention sexual orientation or gender identity."
After DeSantis's comments earlier this week, the following day, a nearly identical state Senate version of the "Don't Say Gay" bill passed the State Senate Education Committee in Florida, along the party lines.
This article was originally published on