First Child Tax Credit Payments Slashed Child Hunger By 24 Percent
Hopefully, this data will encourage lawmakers to keep the credit going.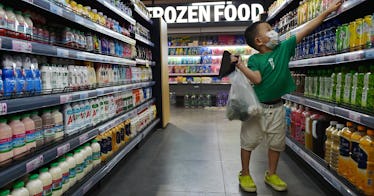 GETTY
The child tax credit payments have made a dramatic improvement in the lives of parents. New data released from the U.S. Census Bureau shows that families with kids who report going hungry were dramatically reduced after parents received the first child tax credit payment. Here's what you need to know.
The Internal Revenue Service (IRS) began issuing a monthly Advance Child Tax Credit payment to families. The first check hit families' banks around July 15. Payment includes up to $300 for each child aged five and under and up to $250 for each child between 6 to 17. And even just that first payment made a positive impact on families.
New Household Pulse Survey (HPS) results, a survey conducted by the U.S. Census Bureau, asked participants several questions before and just after the arrival of the first checks. The 20-minute online survey touched on food security, health, housing, household spending, childcare, education, Child Tax Credit payments, and vaccinations, all related to the ongoing pandemic.
The survey found a significant overall drop in the number of households experiencing food insufficiency, which means sometimes or often not having enough food to eat. Specifically, the decline was driven mainly by households with children, dropping child hunger by 24 percent.
The same drop wasn't true for adults with no children in the house, which reported no change in food insufficiency during the same period. The HPS survey shows that 47 percent of parents said they spent the Child Tax Credit payment on food.
Politico warns that there are "still glaring racial inequities in the overall rates of hunger and the rates of recovery." Adding that, "Black households with children report more than twice the rate of food hardship compared with white households."
The second Child Tax Credit payment is slated to hit parents' banks today, August 13. The subsequent monthly payments will come out on September 15, October 15, November 15, and December 15.
Not sure if you're enrolled in the advance payment program? You can check your status by visiting the Child Tax Credit Update Portal.