Yes, Fireworks Are Terrible For Air Quality — Even The Next Day
Air quality is already poor across large swathes of the United States, and firework shows could make it worse.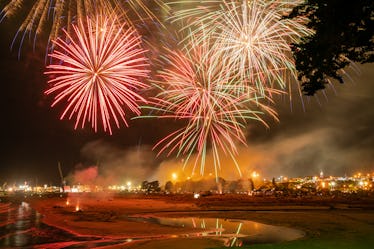 Neil Meade / 500px/500px/Getty Images
Happy Fourth of July! This weekend, many Americans will celebrate with all sorts of fun activities, from grill outs to pool parties to seeing traditional fireworks displays on Tuesday, July 4th. But one thing that might be on parents' minds is air quality, which has been, in a word, spotty over the past few weeks across North America. On June 27, more than 120 million Americans were currently under air quality alerts, according to CNN. And the unfortunate reality is that fireworks can be tough on the air, and our lungs, promoting several locations to cancel their traditional fireworks shows.
According to a study from the National Oceanic and Atmospheric Administration (NOAA) conducted in 2015, fireworks cause "a spike in particulate matter pollution of an average of 42%," per RWC Pulse. "Other studies have found increases in pollutants such as nitrogen oxides and sulfur dioxide, and even trace concentrations of heavy metals like strontium, barium, and lead," the publication explains. And the result of those pollutants in the air can increase harmful levels of air pollution that linger longer than the firework show.
A 2021 study published in the International Journal of Environmental Research and Public Health looked at the impact fireworks have on air quality and found similar results as the 2015 study by NOAA. It found that firework displays, like the ones often part of Fourth of July celebrations, and the smoke they produce "can be comparable to that from wildfires."
Air quality is already poor due to ongoing wildfires sweeping through Northern Ontario and Quebec in Canada, which is seeing its worst wildfire season on record, impacting the United States and even Europe.
According to CNN, air quality alerts have been issued across the U.S., including in New York, Iowa, Wisconsin, Illinois, Indiana, Michigan, Delaware, and Maryland as well are parts of Kansas, Missouri, Minnesota, Ohio, Pennsylvania, Virginia, and North Carolina. The areas hardest hit currently with poor air quality are centered over the Chicago, Cleveland, Detroit, and Indianapolis metro areas.
Poor air quality is dangerous for everyone, given wildfire smoke and smoke from fireworks contain small PM2.5 particles which can get past our body's defense systems and settle deep into our lungs, eyes, nose, and lungs, which increases the risks for infections. It's particularly harmful to people dealing with lung concerns like asthma, according to U.S. Environmental Protection Agency.
And kids are particularly vulnerable because they "breathe faster, tend to be more active outdoors and, proportionally, take in more air for their body size than their parents do. Plus, their lungs are developing, which means poor air quality can have a long-term impact on their growth," according to Children's Hospital Colorado.
If you and the kids plan to watch fireworks, there are a few protections you can take to decrease the risks associated with poor air quality. Keep an eye on air quality alerts in your area — if it looks too unhealthy, just don't go. Also, find a well-fitted N95 respirator for kids 7 and up, buy a HEPA air filter for your home, and seek immediate help if anyone begins experiencing wheezing, tightness or pain in their chest, or shortness of breath.