WTF? Disney Fans Are Paying $300 For a Popcorn Bucket Shaped Like a Dragon
No one even remembers this character.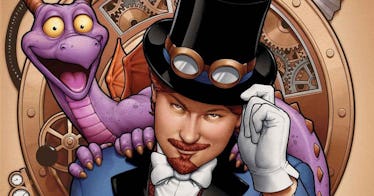 Marvel / Disney
How far would you go to get your hands on a rare collector's item? For Disney collectors, nothing will stop them, not time and not money. Just ask anyone who got their hands on a bucket of popcorn featuring an obscure '80s character after it was teased on Disney's social media — sometimes to the tune of hundreds of dollars.
According to the Los Angeles Times, Walt Disney World's Epcot theme park caused a stir after teasing a bucket of popcorn that was going on sale on its social media platforms.
This wasn't just any ol' bucket though, of course. The bucket of popcorn was in the shape of a dragon named Figment, and true Disney fans went wild because they're the only ones who know who Figment is.
The plastic Figment buckets went on sale at Epcot's International Festival of the Arts, which opened on January 14 through February 21. Each bucket sold for $25 for a limited time and they were limited to two per person. It didn't take long for the buckets to completely sell out – Disney was all out three days later – but the demand was still super high.
And that's when the buckets started appearing online, according to the Los Angeles Times, spotted for as much as $270 per bucket. The publication says the Figment buckets are still selling on eBay, the online bidding site, for as much as $145.
"Popcorn buckets are popular. Figment merchandise is rare," Jay Cisco, one of the hundreds of people who stood in line in January hoping to get the popcorn bucket. "Combine the two and it's a perfect chaotic cocktail for capitalism."
Cool, cool. So, who is Figment then? He's not someone we see as a star in any Disney movies, but he lives at the Disney Parks. The purple dragon is featured in the attraction Journey Into Imagination and he serves as Epcot's mascot.
Figment has been an Easter egg in some Pixar movies, including Inside Out and Toy Story 4. He also stars in a Marvel comic, Disney Kingdoms: Figment. He's cool and all — but $300 worth of cool?
This article was originally published on