New Documentary 'Feral Families' Explores Parenting Without Rules
The show has garnered significant attention and controversy before its even aired.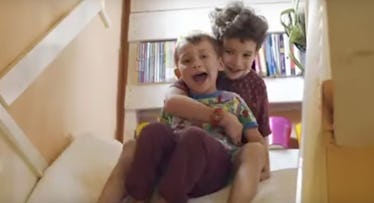 What kid doesn't dream of waking up one day to find that their parents stripped away the stupid rules from life and just let them exist. As adults and parents, however, we're pretty sure this would be a bananas philosophy. Kids need rules to protect themselves from, well, themselves. Right? Well, a new series is following parents who toss the rule book out and embrace the free-spirited route of alternative parenting.
Called Feral Families, the new three-part documentary is on BBC this Thursday. It follows three families who have decided to throw the rule book out the window and embrace alternative parenting. With this extreme, free-spirited parenting technique, kids are trusted to make their own decisions, even if they turn out to be wrong. Kids can decide to skip school (they are homeschooled) if the weather is unexpectedly nice. They can have ice cream at midnight. They can decide what they want to wear and how to groom themselves. Gemma Rawnley, one of the parents on the show, will even let her son play with a pickaxe, which she insists isn't dangerous as long as "you teach them how to use it."
There's nothing new to this laissez-faire approach to parenting, as it has begun to grow in popularity over the past few years as a response to the rigid, helicopter style of raising kids. The parents understand that many will accuse them of being irresponsible and even negligent but argue they are allowing their kids to become thoughtful, independent people instead of those who simply follow rules without any choice or agency.
Only time will tell what happens on the show, but Feral Families certainly looks to be an interesting watch. Or you can avoid it and watch something that doesn't have to do with parenting for the hour of drowsy freedom you have each night. Because there are no rules about what you're allowed to watch.